Hans Gronborg honored as 'Korean Ambassador for Peace'
     BEDFORD, Pa. – Colonial Courtyard at Bedford resident Hans Gronborg was among a group of area veterans who recently received the Ambassador For Peace Korean medal.
The Bedford American Legion Post 113 hosted a special ceremony for approximately 25 Korean War veterans on July 10. A proclamation was read and presentations made by The Ministry of Patriots and Veterans Affairs.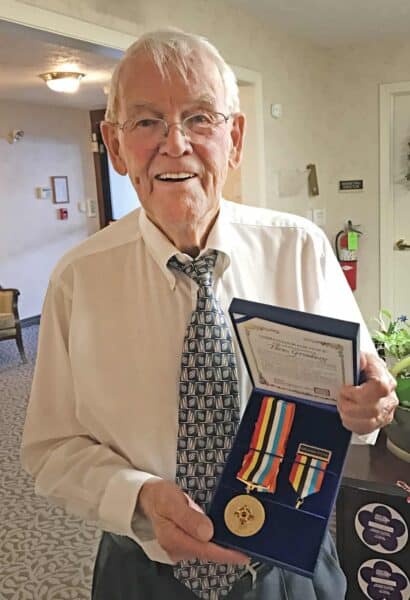 "We appreciate the services Hans and all men and women in the U.S. Armed Forces have provided to keep our nation safe," said Nanette Bankes, Colonial Courtyard at Bedford activities coordinator. "This is such a great honor for Hans and all of those honored with the Ambassador For Peace medal."
The medal is an expression of appreciation from the Korean government to U.S. service men and women who served in the Korean conflict. To be eligible, the veterans must have served in country during the Korean War from June 25, 1950 to July 27, 1953. It is also available for the veterans who have participated in UN peacekeeping operations until the end of 1955.
"I am humbled and honored to receive this medal with my fellow veterans," Gronborg said. "I never expected this."
Gronborg served in the U.S. Air Force from 1950-54 and achieved the rank of Airman First Class.
Born on Oct. 17, 1927 in Denmark, Gronborg grew up in his native Aalborg before leaving at age 18 to work in Greenland. He immigrated to the United States in 1950 at age 23 and served four years in the U.S. Air Force before settling down in Erie, Pennsylvania.
Hans worked as a planner for 30 years with Riley Stoker until his retirement in 1988. His wife, Joyce, died in 2013 ending a marriage of 34 years. He has four children, including a son, Jerry, who resides in Bedford. His son Mike lives in Cranesville, Pennsylvania, and son Jeff and daughter Ellen each reside in Florida.
"Two words come to mind when you meet Hans," Bankes said. "Kind gentleman. He is one of the kindest men I've met. Hans participates regularly in exercise classes, the men's club and many other programs at Colonial Courtyard at Bedford. We are proud to salute him."
For more information, contact Nanette Bankes, Activities Coordinator, Colonial Courtyard at Bedford, at nbankes@integracare.com or 814.624.0100