Courtney Bolinsky, Executive Director of The Woods at Cedar Run, is the recipient for the AL/PC Executive Director of the Year Award.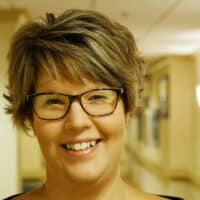 Camp Hill, Pa — For the short two years and two months of her employment at The Woods at Cedar Run, Courtney Bolinsky has made a huge impact in the community. Her deliberative and analytical nature allowed her to overcome difficult situations that occurred in the facility. In every situation, she would carefully evaluate every aspect before sharing her opinion and would make thoughtful and meaningful recommendations with transparency based on her own research.
It comes as no surprise that her hard, detail-oriented work had led to producing substantial results. Courtney has worked hard in the area of recruitment and retention and was successful in reducing team member turnover by 21% between the years 2015-2016 and continued to reduce an additional 13% in between 2016-2017.
Courtney made it a point to work on and engage in the Food Service Program which the facility had struggled with prior to her arrival. The Regional Director of Dining Services had made a comment that, "The Woods is the best it has been in 30 years because the ED cares about Dining Services."
Courtney is known by her co-workers to be a leader by example. She is willing to take up roles apart from her own in order to help her team. In one instance, a fellow staff member had found her in a Resident Care staff uniform as she was passing medications that day. She is an exemplary and humble leader, who has a strong vision of the future and would do all she can to reach that goal.
Putzier, President and COO, IntegraCare Corp., which owns The Woods at Cedar Run, said, "Courtney is our powerful example of meeting in the middle and empowering leaders to do what they do best for our residents and their families."
You can view Courtney's video at https://youtu.be/qHcdvFDsxvE.
PHCA's Hero Awards honor individuals who have excelled in providing outstanding care in a cooperative spirit of teamwork. Each year, PHCA accepts nominations from employees and administrators at long-term care and senior service facilities across the state that want to recognize colleagues for their commitment and dedication to quality care and quality of life.
* * *
 The Pennsylvania Health Care Association (PHCA) is a statewide advocacy organization for Pennsylvania's most vulnerable older residents and their providers of care. Members comprise for-profit, nonprofit and government providers. Together, they represent more than 420 long-term care and senior service providers that care for more than 50,000 elderly and disabled individuals. For more information call (717) 221-1800 or visit www.phca.org.