Here is our organizational weekly update related to COVID-19 week for the week ending 8/13/2020.
Where we are with our COVID-19 Testing

In Pennsylvania, we completed our universal testing and continue to test a 20% random sample of our team members each week.  We are COVID-free in seven of our nine PA communities.  We have three COVID-19 positive asymptomatic team members in our Butler community and three asymptomatic team members at our Greensburg community.  All six of our affected team members are recovering at home in quarantine and we initiated universal testing in those two communities to capture and isolate any other possible cases.  So far no other cases have resulted from this complete testing, but results are still coming in.  We will keep our residents, their families and our team informed as we progress.

In Maryland, we are receiving our universal testing results from the lab.  As of today, we have one asymptomatic team member (reported to you last week) and one resident who tested positive. Maryland's COVID testing requirement is 100% of all team members and health providers weekly. The positive test result for the Resident was identified during universal testing in response to our positive team member test result from last week. We will continue the testing until we have 100% negative results for COVID-19.  Contact tracing is taking place and both individuals are recovering comfortably in quarantine.  We are in close contact with all state regulators.

In Virginia, we are completing our 20% random sample COVID testing of our team members each week testing and are presently COVID-free.
Outdoor Visiting
Our outdoor visitation plans are now underway.  Here is the rundown for the week:
Visiting Rules and Protocols Must Be Followed for the Success of All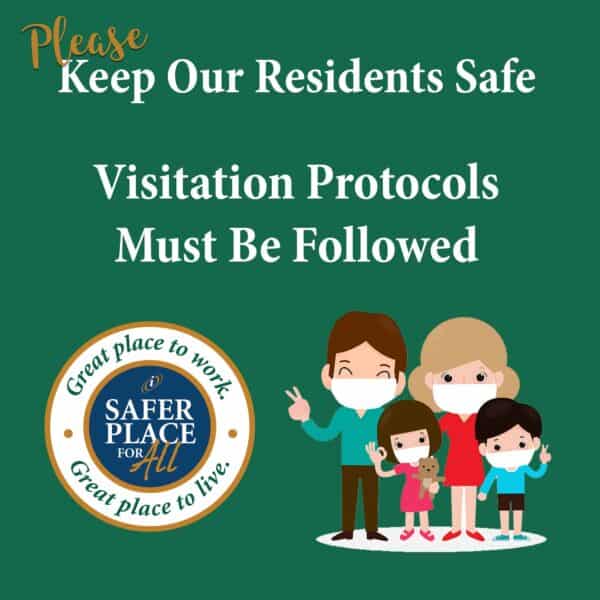 Please remember you MUST have an appointment to visit.  Walk-up visits are not permitted as we need to ensure the area is sanitized and screening can be properly conducted.  There are select times for visiting and each visit is timed to allow more families to see their loved ones.  We also need to sanitize between each visit so it's imperative that visits stick to their schedule.  Visitors will be screened and if there is any indication that you may be ill, the visit will not be permitted.  Visitors must wear masks that cover both their mouth AND nose, and the mask must be worn the entire time you are at the community.  Social distancing must be maintained at all times.    Visits are conducted outside, and no visitors are permitted to enter the building.  We thank you for your cooperation!
What's next?
We are working to optimize our outdoor visitation schedules and reservations while planning for the communal dining for our residents, safely.
Fighting this virus and working to keep it out of our communities consistently is like wearing combat boots to the finish line in a marathon.  The load is heavy but we are determined.  We will finish.  It continues to be hard on our teams and our residents.  We are in this together to make our communities a safer place for all. Our teams are the heroes, staying the course to combating the virus, safely.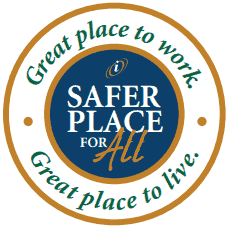 We are a great place to live.  We are a great place to work.  We are a safer place for all.
For more information, please contact your Executive Operations Officer at your community.  Stay Healthy!