Eggs containing cash, vacation vouchers boost spirits amid COVID-19 crisis
PITTSBURGH – Employees and residents in 11 IntegraCare-operated senior living communities located throughout Pennsylvania, Maryland and Virginia have adapted to life during the COVID-19 pandemic.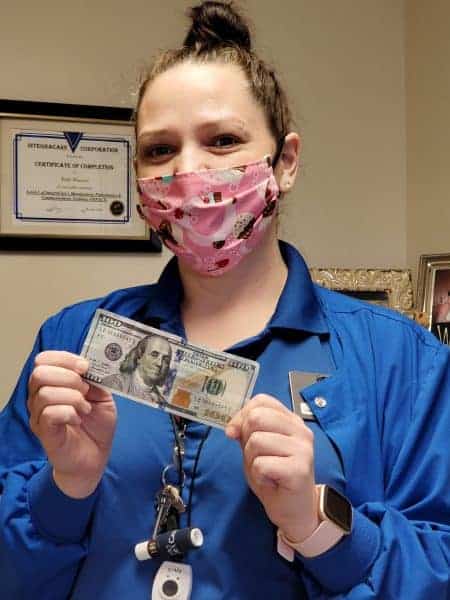 No visitors. Social distancing. Personal protective equipment. Virtual hugs. Window greetings and birthday songs from an outdoor balcony. The IntegraCare team uses the hashtag #COVID19Warriors while following CDC guidelines and governors' executive orders.
Now, the Easter Bunny is rewarding IntegraCare employees for their commitment to the residents in the senior living communities. Butch Cassiday, Regional LifeStyle and LifeStories Director, recently sent an email throughout the IntegraCare communities:
"The Easter Bunny made a terrible mistake," Cassiday wrote. "He dropped off hundreds of eggs at my doorstep. I opened a couple eggs and, 'Wow! There is cash in them!' I even opened one that said I just won a week's paid vacation!  As I got to thinking about it, I figured the bunny did not really mean for me to keep all of those eggs. In the spirit of this blessed week, I split up all the eggs and put them into a basket for your community."
The eggs were shipped to all IntegraCare communities. Each team and leadership member will receive an egg, which will contain at least $5 with a maximum of $100. One egg per community will include one vacation week.
"Thank you all for keeping the spirit alive and our teams motivated and engaged during these difficult times," Cassiday said. "You are making all the difference."
The holiday-themed surprise is the latest example of IntegraCare's commitment to its employees and residents as part of its three-dimensional focus. Each January, IntegraCare rewards one employee with a new car through its Continued Attendance Rewards (CAR) Program contest. Throughout the year, employees receive vouchers based on perfect attendance.
"Our mission is to improve the quality of life for our team members, residents and their families," said Brandon Smeltzer, IntegraCare VP of Sales and Marketing.  "Our goal is to create an environment of respect, dignity and personal development. By providing this environment for our team, the second half of our mission, to improve the quality of life for our residents and their families, will be achieved."
For more information, contact Butch Cassiday, CDP, CADDCT, CDCM, Regional LifeStyle and LifeStories Director, at 724.940.5544 or bcassiday@integracare.com.