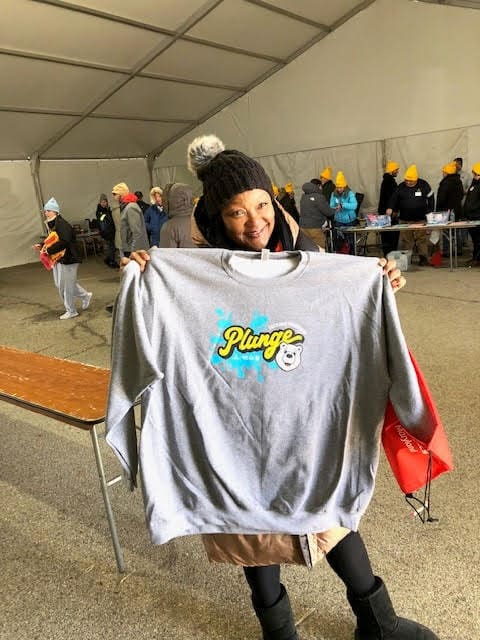 Bay Village Executive Operations Officer Janine Norris participated in the Polar Plunge to raise money for Special Olympics Maryland on Feb. 4. Norris was among 5,000 participants who made the plunge into the frigid Chesapeake Bay.
Bay Village EOO Takes Polar Bear Plunge to Support Special Olympics Maryland
ANNAPOLIS, Md. – Bay Village Executive Operations Officer Janine Norris literally jumped into the frigid waters of the Chesapeake Bay to raise funds for Special Olympics Maryland.
Norris made a splash among the 5,000 people who participated in the 27th annual Maryland State Police Polar Bear Plunge on Feb. 4 at Sandy Point State Park. More than $3.4 million was raised during the event, which was held amid the 20- to 30-degree mark in the area.
"The Polar Bear Plunge is an incredible and worthwhile event that benefits the 4,000 athletes who participate in Special Olympics Maryland," Norris said.
Mentally preparing to brave the cold temperatures was one of the biggest challenges, Norris said. But her first experience with the Polar Plunge probably won't be her last.
"I had always heard about the Polar Bear plunge but never thought of doing it," Norris said. "After all, who in their right mind wants to jump in cold water?  However, when it was presented to our community, I lightheartedly agreed to do it. I admit I kept checking the weather a few days leading up to it, and wouldn't you know it was 20 degrees that morning."
Norris did her homework before making the plunge.
"I Googled tips on what to do to prepare, and those tips helped greatly," she said. "I kept thinking it's now or never. There were so many people on the shore that day, I was glad I had accepted the challenge.
"As the countdown began, I thought, 'Just go for it with all these people. It can't be that cold.' I was WRONG," Norris said. "You can't quite describe that type of cold. I waded out far enough to give the life guards a high five and made my way back to land.  It was quite exhilarating to have done something so fulfilling for such a great cause. Would I do it again? Absolutely."
Those who participated in the Polar Bear Plunge raised money through online pledges and donations. Bay Village accepted donations through the senior living community's Facebook page, which included a link to the Polar Bear Plunge team page.
"It's an unbelievable demonstration of the best of Maryland," Special Olympics Maryland President/CEO Jim Schmutz said in media reports about the event. "They come together. People understand our athletes participate free of charge. The outpouring of support gives them opportunities to go on the field of play and show what they can do."
Bay Village, a senior living community with Assisted Living and Memory Care, raised several hundred dollars to help the cause.
"We are proud to be a part of this fund-raising effort for such a great cause," said Bay Village Community Relations Director Brent Matherly. "Janine did a great job braving the cold and making the Plunge."
Visit https://www.integracare.com
For more information, contact Brent Matherly, Community Relations Director, at 443.258.1007 or bmatherly@integracare.com.