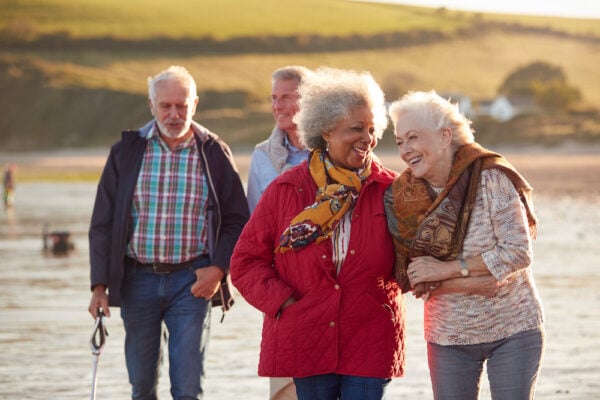 Hundreds of thousands of Americans spend their senior years in senior living communities. This is a huge step coming from a lifetime of being in one's comfort zone in their own home. Starting in a new place can be difficult, brought about by the new people and new culture that come along with it. 
This article will help seniors increase their socialization skills and make friends who will help them adjust to the senior living community. 
1.) Actively Join Community Activities
What's good about senior living communities is that they have a dynamic calendar. They have various activities catered to the needs of the residents. For example, there are days where they just have their walking groups while there are times that they arrange simple music festivals inside. Whatever it is, it is recommended that the elderly attend these activities so that they can meet new people. 
Make sure to take part in those events that you are genuinely interested in to make acquaintances with those individuals who have similar interests.
2.) Interact with the Staff
Excellent senior living communities have caring and experienced staff that help in this life adjustment. Since residents see them on a regular basis, it is vital to form a friendship with these people. There should also be that one employee you should trust the most. He or she will be your go-to person should you have a problem that you need help with. 
This is also a great opportunity to have that mediator with other senior residents. Once the employees get to know you, they can help you sign up for activities they feel match your interests and hobbies. This is also when they can introduce you to someone they know will have a connection with you in the future. 
3.) Hangout in Common Areas
One good feature that senior living communities have is that they have common areas. Some of these include game rooms, television rooms, lounges, and more. They are strategically set up as common areas, so it is easier for residents to meet their co-residents and encourages bonding among these seniors. 
Therefore, if you have some free time up your sleeves, ensure that you spend time in one of these rooms, even for just a few minutes. That short time will already allow you to meet new people who will make your life easier in this new environment. 
4.) Turn Meals Into a Social Event
Another cardinal rule that you have to take into consideration when in senior living communities is not to eat alone. It might be understandable to do so in your first two weeks. However, make sure to turn meals into a social event once you start with your adjustment phase. 
If you still do not have enough friends to invite for a meal, then have the courage to ask some tables if you can sit with them. This is a good starting point, but don't just stick to one group. Make sure that you also have enough exposure to others to expand your circle more. 
Once you have established a good relationship with these people, it's now your turn to bring these parties together.
5.) Invite Neighbors For a Short Gathering
Don't wait for other people to reach out to you. Instead, be more active and take that initiative, even if you are just new to the community. The best way to go about this is to invite neighbors over for a short gathering. It may be a simple dinner, or you may also go out with a game night on the side. 
Keep in mind that these gatherings do not have to be too formal. Make them feel at home by encouraging them to just be themselves every time they're with you. If you're too tired to prepare for a meal, you may also converse over a cup of tea with cookies or coffee with sweet treats in the afternoon. What's important is that you have people over, so you have the chance to meet everyone.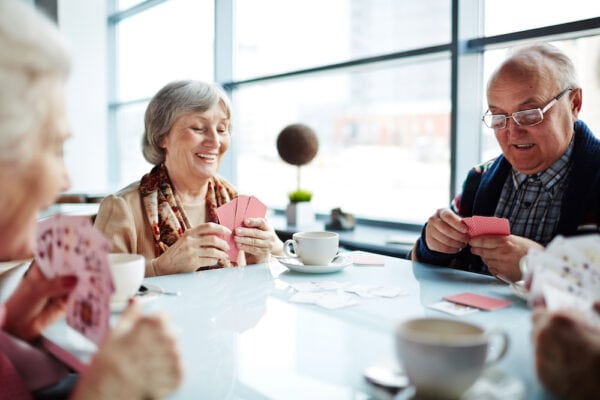 6.) Find Your Other New Co-Residents
To have a buddy who will help you with your adjustment phase is another good strategy to lighten up the load. Of course, the best person to spend this journey with is your new co-residents as well. There's a high chance that you're not the only new resident in town. All you have to do is find that person and put in some effort to get to know them as well. Learn the ropes together, join organization activities together, and get advice from each other for easier navigation of the senior living community life.
If you do not know where to start finding these people, you may also ask your staff friends. They'll guide you to jumpstart this process. 
7.) Be Optimistic
Adjusting to a new environment requires a positive attitude. If you do not have the correct mindset, it will be more difficult to face this challenge. The more pessimistic you are, the more your mind will adapt this mindset and reflect in your life. 
You'll be surprised how easy it is to be optimistic. Boost your positivity by incorporating simple tasks into your daily life. Sometimes this just means smiling at everyone you encounter during your morning walks or having a cup of coffee with your co-residents. This will lighten the burden of adjusting to this new life. 
Find the Best Senior Living Community For You
It's exhilarating and intimidating to go through this journey. However, making friends will lessen the scare you feel. If you want to have a more smooth-flowing lifestyle transition, make sure to find the best senior living community for you. Look for something that will match your needs and personality. Get to know their operations first before signing up there. And don't forget to follow these tips in making new friends in your new senior living community!