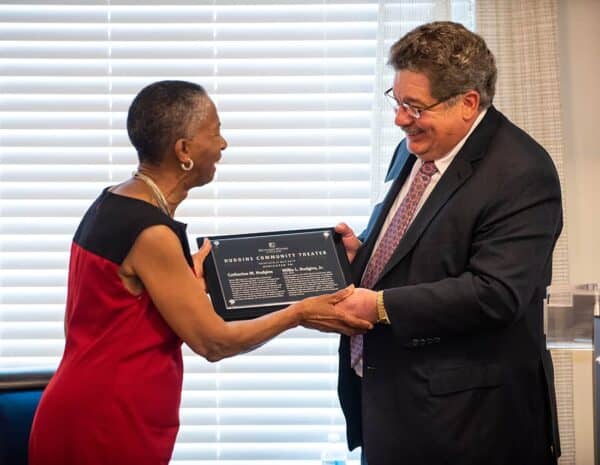 RESTON, VA– Hunters Woods at Trails Edge opened it's doors with fanfare, and took the opportunity to honor 2 very special local residents.
Catherine and Willie Hudgins are names many in Reston know well, because if each of their years of dedication to the community at large.
Hunter Mill Supervisor Cathy Hudgins represented Reston from 1999 through 2019, serving as a distinguished, award-winning leader who fully embraced the vision of Reston founder, Robert E. Simon, Jr. As a smart growth advocate, her work focused on mixed-use development with the goal of creating sustainable communities. As an active member in national, state and local organizations, her involvement was based on compassion and finding a place for everyone in our welcoming community, all while raising two sons, Tony and Michael, with her cherished husband Willie.
A Reston resident since 1969 with his beloved wife Cathy, Willie Hudgins was an accomplished lawyer and dedicated to this community. Known by some friends as the Prince of Reston, he volunteered for many youth organizations and served as Chairman of the Reston Community Center Board of Governors from 1990 until 1995. Understanding the capacity of RCC to lift people's spirits – supporting their creativity, health and well-being – Willie ensured that it remained a vital resource accessible to everyone living and working in Reston.
During opening remarks before Hunters Woods at Trails Edge's Ribbon Cutting event, David Ross, Partner & President of Atlantic Reality, presented Cathy with a plaque commemorating Cathy and Willie's service to Reston, and unveiling the naming of Hunters Woods at Trails Edge's theater.  David cited some of Cathy's efforts specific to the cause, "In 2018 the county enacted a new zoning ordinance called the continuing care facility use…Cathy, as our community leader and the team of people at the county all worked together to ensure there is a standard for this type of community."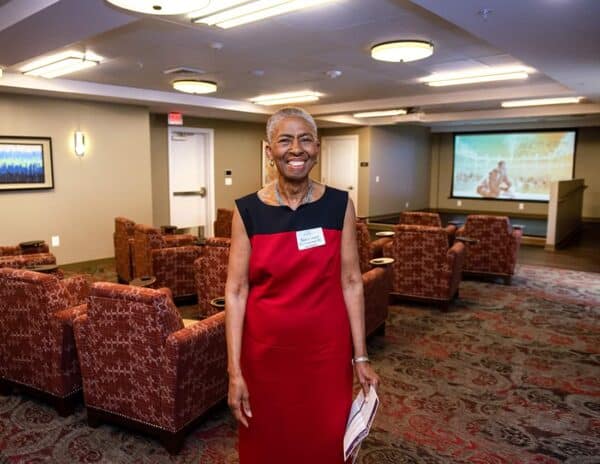 The team at Hunters Woods at Trails Edge is thrilled to be able to honor Cathy in this way.  Cissy Nickel, Direct of Independent Living at Hunters Woods at Trails Edge shared, "We have named our greatest community space The Hudgins Community Theater in honor of Cathy and Willie's dedicated work to ensure the Seniors of Reston can continue to live, work, thrive and stay involved right here in Reston."
The theater features an 11-foot screen for educational seminars, film screenings, and guest lecturers.  The space will be especially used for continuing education opportunities for residents to help full fill the mission of the community for residents to continue to live, thrive, and stay involved.
For more information, contact IntegraCare's Brandon Smeltzer, Executive Director of Sales and Marketing, at bsmeltzer@integracare.com or 724.940.5544, ext. 114.