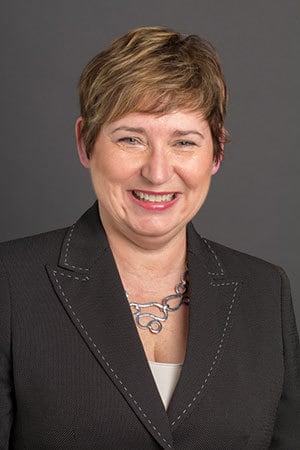 Megan Campbell, a member of the IntegraCare team since 2005, retained her position on the National Center for Assisted Living (NCAL) Board of Directors.
Campbell is Senior Director-Operations Program Quality with IntegraCare, which operates 15 senior living communities in Pennsylvania, Maryland and Virginia. She was among 20 members elected to the NCAL Board during the American Health Care Association and National Center for Assisted Living annual convention in National Harbor, Maryland, in October.
Campbell provides Pennsylvania representation in an organization that has board directors from more than 20 states and the District of Columbia.
"We are incredibly fortunate for this year's Board members, and their time and contribution to assisted living," said NCAL Executive Director LaShuan Bethea. "Now more than ever, we need their leadership to guide us during these challenging years ahead and looking at this group of individuals, I am truly excited about all they will accomplish for our profession."
Members of the AHCA Board of Governors are elected by the association's governing body, the Council of States. The NCAL Board of Directors is elected by current members of the NCAL Board and by the NCAL State Leaders. Both boards hold annual elections at the AHCA/NCAL Convention & Expo.
"Election to the NCAL Board is somewhat of a rigorous process," Campbell said. "It's a special honor to serve with other select industry leaders to make meaningful contributions to our industry that also are respected by policy-makers because of the strong tradition of excellence of AHCA/NCAL."
Overall, Campbell has 27 years of experience in senior living. She joined IntegraCare in September 2005 as an interim Executive Director at Newhaven Court at Lindwood, a community in Greensburg, Pennsylvania.
She also has had roles as IntegraCare Senior Vice President of Operations and Chief Operating Officer, and is the out-going Chair of the Pennsylvania Health Care Association's board representing Personal Care-Assisted Living providers in Pennsylvania.
Additional write-up on Megan Campbell's re-election can be found on Western Pennsylvania Healthcare News.
For more information, contact Brandon Smeltzer, IntegraCare Vice President of Sales and Marketing, at bsmeltzer@integracare.com or 724.940.5544, Ext. 114.