From COVER STORY – MATURE LIVING July/August 2018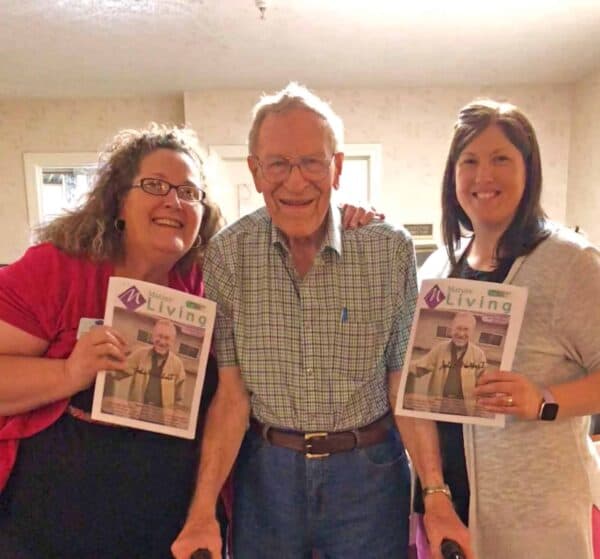 For 65 years John Holbert has been an integral part of Bedford County Agriculture.
In May of 1953 John and wife Jean arrived in Bedford after John accepted the position of Bedford County Extension Agent.
In addition to serving as the County Extension Agent, John jumped in with both feet transforming the Bedford County Fair of 1953, which consisted mainly of a big carnival, car races, harness racing and grand stand shows, to an authentic County Agricultural Fair, providing outlets for local youth to reap the rewards of their hard work in raising animals, covering categories from Bunnies to Bulls.
In 1953 the fairgrounds had just 4 barns…. 1 hog barn and 3 cattle barns.  Currently there are 11 barns that include housing for Dairy and Beef Cattle, Swine, Sheep, Draft Horses, Rabbits, Poultry, 3 Horse Barns, a Jr. Dairy Barn plus the Show Arena.  All the original barns have been reestablished except one beef cattle barn that is in the process of being replaced.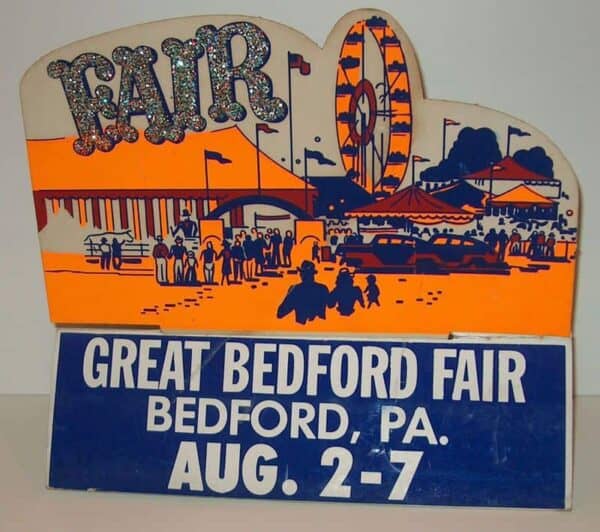 After John's arrival he began a close relationship with local 4-H and FFA groups, their leaders and parents.  That interest took off like wildfire and the rest, as they say, is history.  The community offered support (the Bedford Lions Club built 2 Horse Barns) and John credits the 4-H and FFA leaders and parents with much of the blood, sweat and maybe even some tears that went into the 10 year transformation of the carnival style fair to an all encompassing
Family Friendly County Fair.
When John arrived, the Eichelbergers, Dick and Jean were the Fair Managers and John recalls that they were "wonderful people to work with".  Much was accomplished during those years; the Eichelbergers retired in 1969 and management went from there to Tom Reily, Fred and Jake Hoover, to John and now John's son John E. and Jim Edwards.
John retired in 1986 from his tenure with the County Extension Office with nearly forty years service and after serving on the Fair Board since the Eichelberger days took on the job of President in 1988 and held that position until 2014, when he turned the reins over to Jim Edwards.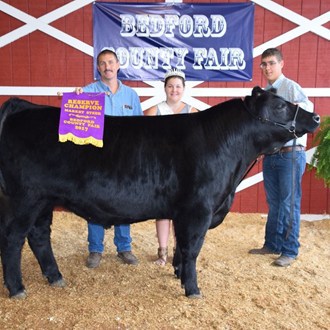 One of the many changes John has seen over the years, in addition to the added barns, is the Jr. Livestock Sale that is run by many volunteers and is a completely different entity than the 'Bedford County Fair Board'.  The Livestock Board is made up of Ag Teachers, 4-H leaders and other volunteers representing the various barns; and all profits go back to the kids who raise the livestock in the form of scholarship dollars.  Last year's Jr. Livestock Sale touted the honor of Top Sales in the state of Pennsylvania with revenues of $302,000.
Other changes that are mentionable include the Pay One Price Admission that was incorporated in 1985 and the switch from the Country Music Grand Stand Shows (which became too costly for a rural fair budget) to specifically Motor Sports, which are extremely popular and affordable.  John laughingly says "we eliminated the girlie shows in the 80's", again striving toward a more family oriented atmosphere.
A new Exhibition Building, Jordan Hall, twice the size of the old building is another popular stop and John adds that part of the old building still remains for storage and reminisces about the days in the late 50's, 60's, and 70's when local radio station WBFD broadcast every day from that old building, keeping the radio audience abreast of the judging results, holding contests and giving the faithful listeners an opportunity to meet their favorite DJ!
Bingo was huge back then, and many times you had to wait your turn for a seat.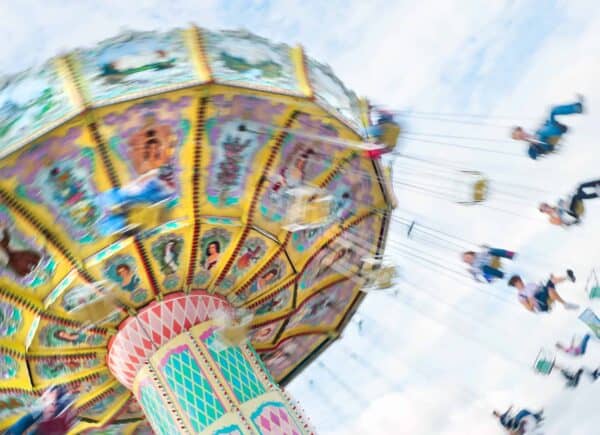 Although John was not "born and raised" in Bedford County, there is no doubt that he quickly adopted it as home.  Born in Potter County, John grew up on a dairy farm and shared chores with his Dad and older brother.  John attended a 1-room school through 8th grade and was active in 4-H and FFA from the ages of 10 and 14 respectively.  He graduated from Ulysses (PA) High School at the age of 15 and did post graduate work until he turned 16, old enough to be accepted to Penn State where he joined his brother Milford.  John and Milford roomed together in the Ag Fraternity, Delta Theta Sigma and John assured me this was a "good" fraternity!
Originally thinking about a 2 year degree, John returned home to the farm after completing his Associates Degree to help milk (by hand) the 1 Jersey and 17 Holsteins, to assist in the production of 200 gallons of maple syrup each spring and to harvest 7 acres of potatoes – friends and neighbors of the Holberts could get a job picking up potatoes for 2 cents a bushel!
After a summer job offer from Penn State traveling to several PA counties, surveying dairy farmers on 'Costs to Produce Their Milk' John decided to return to the University for another 2 years for his Bachelor's Degree.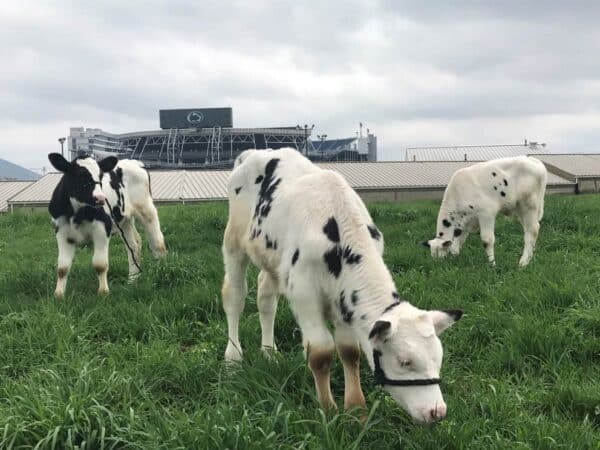 John recalls his senior year at Penn State in 1943 and the draft "breathing down my neck" and made the decision to join the ROTC or Army Reserve, as soon as he finished his senior year.  He was promptly shipped to Ft. Knox, KY and learned all about "light tanks".  John says he "didn't like it very much" so he took and passed the exam to join the Air Corps, and was sent to Washington University in St. Louis, MO where he trained for 5 months.  But the night he was to leave for his pre-flight training he received word that all former ground force men were going back to infantry.  John says "we were a pretty sad bunch", but by a huge stroke of luck and probably a little help from above John and a buddy were told to report to Regimental Headquarters and were transferred to a Communications Platoon where they became telephone linemen and traveled from Southern France to Southern Germany and ended up in Innsbrook, Australia hooking wire into the switchboards, connecting Battalion Headquarters to Regimental Headquarters – John says it was a good job and he was home on furlough when the 1st Atomic Bomb was dropped and was discharged soon after.
During John's senior year at Penn State he met his life long sweetheart, Jean.  They were married in September of 1947 and enjoyed "70 wonderful years together".  John lost Jean in April of this year.
John first worked in Erie and Warren Counties and then after he married Jean, they moved to New Castle; all the while John worked in Agricultural Extension Services.  In 1953 he was offered a promotion and transfer to Bedford county where he was in charge of the County Extension Office.
After some coaxing and promising Jean a home near the beautiful Bedford Springs, they made the move to Bedford County and their forever home.  John says although it took some persuasion to sell Jean on Bedford County, she grew to love it here and considered Bedford her home.
Son John E. was born in 1957 and following in Dad's footsteps raised purebred Suffolk sheep and grew up in 4-H and beside dad at the Fair.  He is married to Robin and they are parents to Ricky, who lives with his wife and daughter in Wintersville, OH.
John E. was elected to the Fair Board in 1988 and is now the Operations Manager, working with President Edwards.
John, who now holds the distinct title of Director Emeritus and lives at Colonial Courtyard drives almost daily to the fair office, just to make sure things are running smoothly.
Father and son both agree that through all the changes, the ups and the downs – the downs usually relating to the weather and changing government regulations, Bedford County has a mighty fine Fair with lots of wonderful, hard working, dedicated volunteers, and they hope to see YOU at this year's great Bedford County Fair!