CHAMBERSBURG, Pa. – Whether she is playing Bingo, enjoying a daily walk or petting the community dog, Irene Rebok is among the most recognizable residents at Magnolias of Chambersburg.
Rebok will turn 107th on Saturday, June 23. A celebration of the milestone birthday will be held at Magnolias of Chambersburg a day earlier, as Pennsylvania Representative Rob W. Kauffman of Franklin County will visit the senior living community at 9 a.m. on June 22 and a party will follow at 2:30 that afternoon.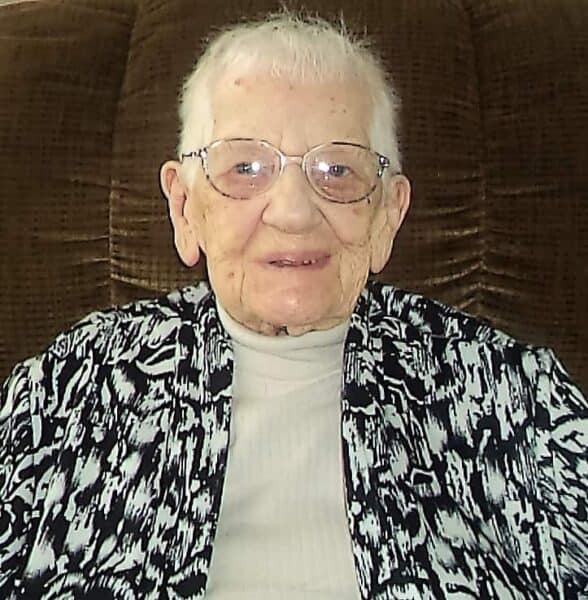 "Irene is a special and wonderful woman," said Melissa Buksa, Activities Coordinator at Magnolias of Chambersburg, located at 745 Norland Avenue. "Irene worked as a nurse's aide and was a home maker. She lived in Pennsylvania all of her life."
Rebok was born June 23, 1911 in Franklin County. She grew up in Mont Alto, where she met her husband. The couple had one daughter. She has been part of the Magnolias of Chambersburg community for four years.
"Irene remains very active as a 'young' 107-year-old," Buksa said. "Her favorite food is ice cream, any flavor, and she loves to play Bingo. She lives for Bingo. She's the first one out for Bingo every Monday."
"Irene likes visiting with our community dog, Casey," Buksa continued. "The dog will sit on her lap for a while. She enjoys taking her daily walks on the inside of the community. She really enjoys visiting with other residents and reminiscing with family and friends. Irene attributes her longevity to her spirituality and just caring for others."
Magnolias of Chambersburg has promoted a "card shower" and encouraged people to send cards to Irene Rebok, Magnolias of Chambersburg, 745 Norland Avenue, Chambersburg, Pa. 17201.
"We've been receiving cards throughout the month," said Gretchen Wease, Move-In and Business Office Associate at Magnolias of Chambersburg. "Irene is well-known and well-liked throughout our community. She still is very active in Bingo. She likes to take her laps around the building every day. After each meal she takes two laps around the inside of our building and usually has six laps a day. She is amazing. She really is amazing."
For more information, contact, Melissa Buksa, LifeStyles Coordinator, Magnolias of Chambersbrug, at mbuksa@integracare.com or 717.264.6000.