The Tales of Leroy
Recounted by Colonial Courtyard at Bedford Resident, Leroy G.
Written by granddaughter Vanesa H.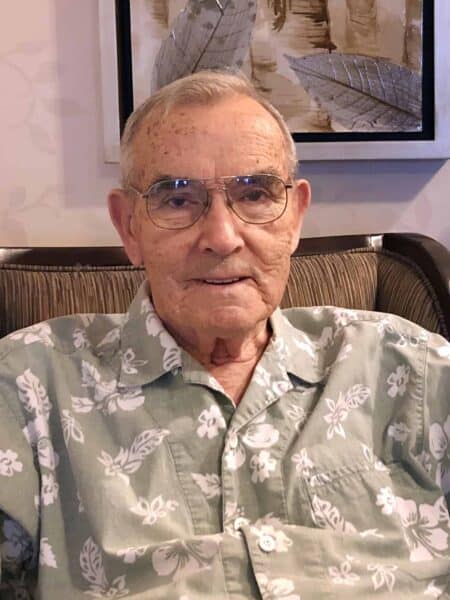 This story does not begin where traditional stories originate, but rather a generation before. Ruth G. was one of eleven children born to William G. Due to financial hardships, Ruth, along with all of her eleven her siblings, were put up for adoption. Clark and Ella S., a retired railroad worker and his wife, moved to Schellsburg from the Johnstown area. They were unable to have children of their own. Upon their arrival, they learned of the G. family and were delighted to have the opportunity to adopt Ruth as a child of their own. Ruth, a young girl, soon became pregnant with a baby boy. Leroy was born in Schellsburg, Pennsylvania, on February 21, 1931. Clark and Ella raised both Ruth and Leroy as if they were their own. As the years passed, Leroy's mother, Ruth, met a man by the name of John W.. They were soon married and had three daughters of their own.
As a child, Leroy attended Washington School in New Paris. In 1949, he graduated from the Schellsburg Napier High School. He actively participated in the Future Farmers of America (FFA). Leroy also engaged in the high school band as a trumpet player and was later selected for state band. While in school he met the lovely Vivian F., daughter of Mervin. It was love at first sight. They were married three years later in August of 1950 by Reverend James Lilley in Schellsburg. Leroy proudly tells the story of how it cost him $10.00 for the opportunity to marry the love of his life.
The newlyweds moved into a home across from the old eight-square school house in Fishertown. They started their family a mere nine months later with the birth of their first child, Connie. Shortly afterwards, the young family moved back in with Leroy's adoptive family due to his mother, Ella's declining health. After her passing, Leroy and Vivian purchased a 45 acre farm in Helixville. There they welcomed four more children, Rodney, Larry, Cindy, and Stephanie.
After graduation in 1949, Leroy worked for the Falkland Farms in Schellsburg. His initial wage was $0.42 an hour. The following fall, Leroy took a job working for Kissel Concrete in Johnstown where he worked for 28 years before moving on to U.S. Steel where he cut out steel using a burning machine.  After only 7 years, he was laid off.  Leroy then pursued a job at Fi-Hoff Concrete, and after 17 years he retired from Fi-Hoff in 1992. Leroy and Vivian lived a life full of adventure. In their free time, they traveled across the United States, often camping. They slowly transitioned from a tent to a pop-up camper to :finally a motor home in their later years. He has traveled to 48 states while enjoying countless world marvels including the Grand Canyon in Arizona. At their own home, they enjoyed gardening. They spent copious amounts of time tending their one acre garden where they planted hundreds of vegetables including: tomatoes, green beans, cucumbers, potatoes, beets, and whatever else they could get their hands on. At harvest time, they would can all the vegetables for future use. Nothing went to waste in their household.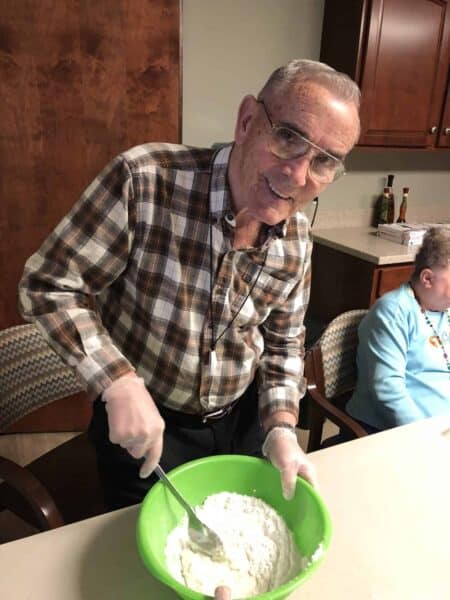 Throughout the community, Leroy is known for "smelling water". Dan Helman, a man; from New Paris, discovered Leroy's knack for the sacred art which he's practiced for the last 70 years. For those unfamiliar, Leroy uses a "Y" shaped peach limb, which tracks the water beneath the ground's surface. When the branch is pulled downward toward the earth, water is below. The stronger the force, the more water is present.  This practice is especially useful for new construction and well drillings. Leroy has done hundreds of jobs in PA and the surrounding states. As Leroy says, "It is a God given talent". Most people do not have the capability of "smelling for water." He has never charged a fee, but rather, accepts money as donation only. He still "smells for water" to this day.
Leroy is a known figure in the community of Bedford County. He has been a lifetime member of the Chestnut Ridge Lions Club and a past board member of Bethel Park Camp. He has been actively involved in church since his marriage to Vivian, attending both the Pleasantview Mennonite Church and the Alum Bank United Methodist Church. Leroy sang in the Father Son Quartet,• the Pleasantview Church Quartet, and the Bedford County Choraliers, a group that sang and traveled around to different areas. He actively participated in the Mens Church Choir where he served as the director.
Prior to coming to Colonial Courtyard, he was an active member of the Faith Brethren Church in New Paris. Leroy has always been a fun-loving and  comical man. He can regularly be seen cracking jokes for the ladies. He loves spending time with his family, including 8 grandchildren, and 19 great-grandchildren.
Leroy and his wife, Vivian, were married for 62 wonderful years before her death in March of 2013. Five months later, he remarried to Rita. They have been married for nearly five years.