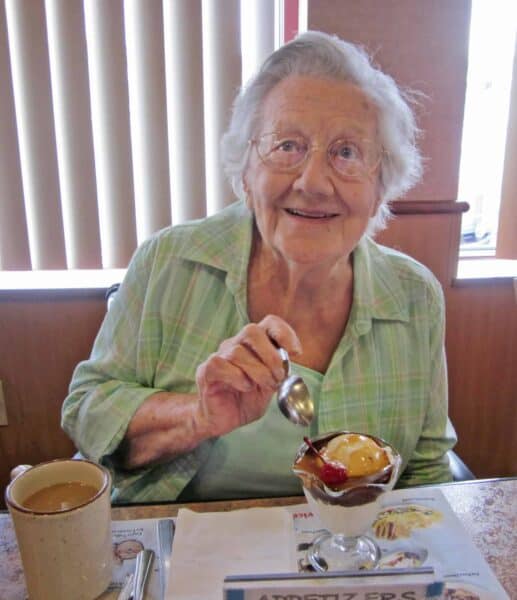 Louise grew up in the small town of Berwyn, PA in Chester County.  She was born on July 2, 1926 at home, and was the youngest of 4 kids.  Louise's mother stayed home to raise the children while her father worked for Philadelphia Electric Company.
As a child, Louise enjoyed spending time with her friends riding bikes and playing hide and seek.  She also enjoyed spending time with her family.  Some of her fondest memories with family were the times they spent together going on picnics, attending the local fire company annual fair, and traveling each summer to Clearfield County to visit extended family members.  She said one of her biggest regrets growing up was never learning how to swim.  She said back in those days swimming pools didn't exist and she never took the opportunity to learn how.
When Louise was 16 years old, her father passed away.  At that time, it was only Louise and her mother at the house.  She took a job at a local bank to help her mom make ends meet. Times were tough as WWII was still happening.  Louise worked at the bank the summer before her senior year in high school.  After she graduated, she followed her father and began working at the Philadelphia Electric Company. She was paid $25.00 for a forty-hour work week; however, it cost her $5.00 per week to ride the train to and from work.
Then one lucky evening, at a birthday party of a friend, Louise met a nice gentleman named Glenn.  He was in the Navy, stationed in Philadelphia, and was eagerly awaiting his discharge papers as WWII had just been declared over.  It wasn't too long after they started dating, Glenn popped the big question and Louise said "Yes"!
Glenn took Louise on a wonderful trip to Buffalo to meet his family.  She said she will never forget that trip.  There was so much snow and it was so cold outside!  Louise said she told Glenn, "If you think we are going to live up here, then here is your ring back!"  Needless to say, Louise and Glenn made their home back in Berwyn, PA.
Louise and Glenn were married 47 years and blessed with three children, two girls and one boy.  Louise stayed home to raise the children and Glenn worked at a local company as a 1st class machinist in a packaging factory.  Louise said when they were first married, there was no television; however, her and her husband looked forward to turning on the radio in the kitchen each evening and listening to The Lone Ranger and The Green Hornet. As a family they enjoyed many things including picnics as well as taking the children out of state each summer to learn more about the world.
Louise now has six grandchildren, eleven great-grandchildren, and one great-great grandchild.   Louise is very active here in the community and really enjoys going out to lunch with the other residents.  One of Louise's famous sayings that we all love to hear when we are out at a restaurant is "There is always room for dessert!"