Senior living community spotlights 'The Man, The Myth, The Musical' on Aug. 28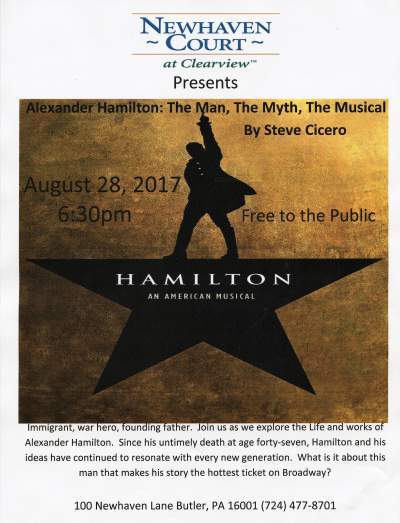 BUTLER, Pa. – Newhaven Court at Clearview will bring a piece of history and perhaps a glimpse of Broadway to the senior living community on Aug. 28.
The presentation "Alexander Hamilton: The Man, The Myth, The Musical" by Steve Cicero will begin at 6:30 p.m. at Newhaven Court at Clearview, 100 Newhaven Lane in Butler. The event is free and open to the public.
"Steve Cicero, who affectionately is known as "The History Hobo," is a local historian who put together this program to provide people who will be attending the play "Hamilton" some background knowledge on Alexander Hamilton," said Kathy Roudybush, Lifestyles Director at Newhaven Court at Clearview. "The presentation is interesting and is also a way to give people who want to learn more about Alexander Hamilton more details about one of our country's founding fathers and a great American statesman."
Cicero is a retired educator who taught at Butler High School. He also is a volunteer at the Frick Art and Historical Center in Pittsburgh.
"Alexander Hamilton was an immigrant, a war hero and a founding father," Roudybush said. "We will explore the life and works of Ha
milton. Even though he died at a relatively-young 47 years of age in 1804, Hamilton and his ideas have continued to resonate generation after generation. With the insight of Steve Cicero, we intend to tell his story and learn why Hamilton's story is evolved into one of the hottest tickets on Broadway."
Known as an American Musical, the critically-acclaimed Hamilton was inspired by the 2004 biography Alexander Hamilton by historian Ron Chernow. The musical incorporates hip-hop, rhythm and blues, pop music and traditional-style show tunes.
Hamilton made its debut in 2015 and a year later received a record-setting 16 Tony nominations, winning 11 times, including Best Musical. Hamilton also received the 2016 Grammy Award for Best Musical Theater Album and the 2016 Pulitzer Prize for Drama.
For more information, contact Kathy Roudybush, Lifestyles Director, Newhaven Court at Clearview, at kroudybush@integracare.com or 724.477.8701.