Candle Light Cove to host 'Defender of Caregivers'
      EASTON, Md. – Candle Light Cove will host "Caregiver Night Out" on Wednesday, Jan. 9 at the assisted living and memory care community at 106 East Earle Avenue.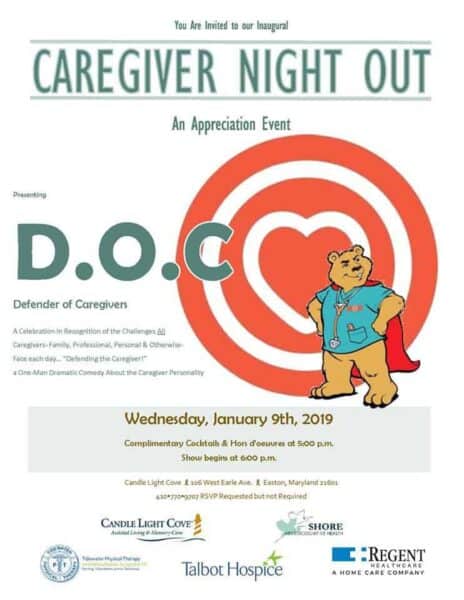 Lon Kieffer's one-man dramatic comedy "Defender of Caregivers" puts the spotlight on caregiver personality. The performance will address challenges faced by all caregivers, whether they are family, professional or personal caregivers.
"It's an opportunity for us to celebrate the sacrifice these caregivers make each and every day," said Candle Light Cove Executive Director Robert Scheele. "This dramatic comedy will give the audience a few moments to step away from that role. What Lon will speak to is that transition from being an individual to a caregiver. This is a great opportunity for us to open our doors and recognize the sacrifices and contributions those caregivers make in the community."
Complimentary cocktails and Hors d'oeuvres will be served at 5 p.m., with the show set to begin at 6 p.m.
Kieffer tells a moving story, using his sense of humor to deliver a message in "Defender of Caregivers."
"It's not a lesson. It's 'Enter-Trainment,'" Kieffer said in videos promoting the show. "You can relax and really talk to each other and talk about issues. The whole play is really about that moment of awareness when you realize that you think you're a man but you're acting like a caregiver.
"If you can just flip that. If you can begin to think like a caregiver, guess what you get?" Kieffer asked. "You get to act like a man. That is so powerful. There are statistics that show the people that find themselves in the caregiver role just won't allow themselves to accept help. That's what the program is about – that moment where you can push through that and maybe realize there is another path and you are not alone."
Kieffer delivers this valuable message through first-hand experience.
"Having Lon Kieffer perform in the Greater Easton community is a testament to the importance of caregivers at all levels and the need for us to recognize the difficult job that they do," said Tami Weber, Director of Sales and Marketing at Candle Light Cove. "This show will help educate them and others regarding the need for this type of role. I don't think this type of program is offered enough. Ultimately, it enables the audience to find a reason to smile throughout all of the difficult challenges of being a part of the caregiver process."
JOIN US for the event!  RSVP HERE.
For more information, contact Tami Weber, Director of Sales and Marketing, Candle Light Cove, at tweber@integracare.com or 410.770.9707