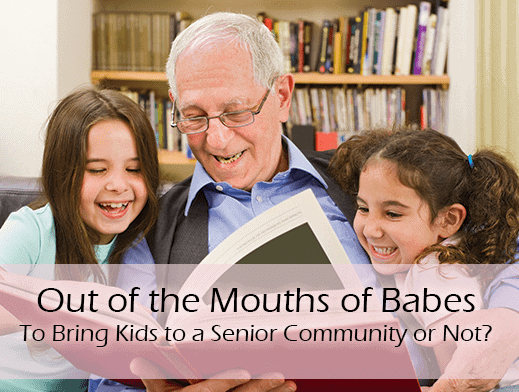 Do you question, "Should I take my son into see grandma & Grandpa?"
In our communities this question should never come up. Our residents and staff love children!  Knowing how we blend our families like our own, I would hope everyone would know that we love to see the kids and watch them grow as we have seen many times over.  Bringing youth into a senior community and bridging the age gap does so much for both the children and the residents they visit.
There is nothing like a smile and a hug from a child for a resident. (And for a Team member, too!)  Children always seem to know just what to say. And as we all know, "out of the mouth of babes" is a classic phrase because sometimes, they do just tell it like it is.  Yet our residents still always know when to giggle regardless. For a child to take interest in a resident is at times the highlight in their day.
We have had little ones crawl in the cage and "rest" with our community pet, Chloe, and it's nice to have a younger friend to play fetch with too.  Having Children sitting in during a fun game of balloon volleyball always sparks a good belly laugh for residents, families and staff.
Game nights and trivia here at the courtyard are always fun to include kids. The residents love to play a one on one match of checkers, go fish or even teach the teens to play 500 Rummy! My girls personally have learned from the best here at the courtyard. Let's put a fun twist to family game night, come on in and bring the family!

What about Pets?
Sure we love pets! We are very pet friendly, as you can see with our darling yellow lab, Chloe, its amazing what a cold nose and a wag of a tail can do. We have seen furry friends bring smiles to our residents' faces that stretch from one ear to another!.
As long as your dog is fully vetted and you bring documentation of vaccinations, we would love to have your furry friends visit.
As you can see no need to question it, just bring them on in! You're home when you're here with us!
Author, Vienna Rice, is the Activities Director at Colonial Courtyard at Tyrone in scenic Tyrone, Pennsylvania where she uses her wonderous creativity to enrich the lives of her residents every day.  She is also in charge of the Community Pet program at Colonial Courtyard at Tyrone and encourages residents and their families to participate in the activities hosted each and every day at her community.  Vienna is a 2014 recipient of the ALFA Hero Award for her fantastic service to her residents, making a difference in their lives.  For more information about Colonial Courtyard's activities programs contact her today at (814) 686-5970.