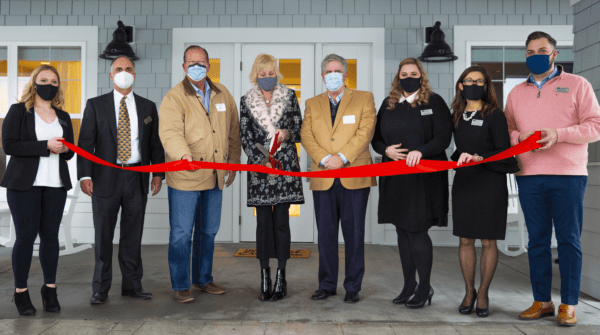 Wexford, Pennsylvania-based IntegraCare Corporation, owner-operator of thirteen senior care communities in the eastern United States announces the grand opening of Queenstown Landing Assisted Living & Memory Care in Queenstown, Maryland.
The grand opening reception and ribbon cutting was held today, Thursday, February 18th at 4 PM. Queen Anne's County Commissioner Jim Moran joined IntegraCare executives and other local dignitaries at the community property located at 120 Shoreway Drive.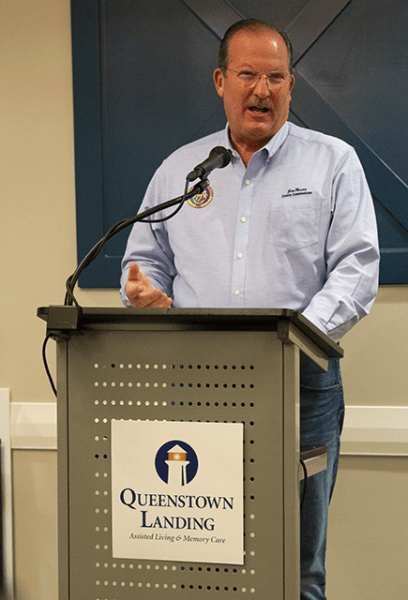 County Commissioner Jim Moran is a neighbor of the community and has watched the construction progress and stopped by from time to time.  He spoke to the critical gap that Queenstown Landing helps fill, "We are in dire need of more services like this.  We are very fortunate for you to open this community in Queen Anne's County and we're looking forward to it."
'I fell in love with Queen Anne's County 5 years ago when there was an event that Candle Light Cove hosted at Chesapeake College, and I spent some time driving around the area and talking to the people and it's a terrific community," shared Larry Rouvelas, CEO of IntegraCare.  Larry's remarks centered around the culture and vibrant lifestyle that Queenstown Landing will shape for our residents, "The county has really embraced us and I guarantee the community we're working to create here mirrors what you're working to foster in Queen Anne's County.  It's a much more natural way of life to live among one's friends and neighbors.  Life is much better together and we're eager to echo the eastern shore sense of community here for our residents.  We know this team is ready to create a wonderful quality of life for area seniors, and I'm eager to see them succeed."
One way that IntegraCare aims to succeed in creating a great place to live in Queenstown Landing, is through their team-centered approach.  Putzier, Co-Founder and Chief People Officer at IntegraCare, provided greater evidence of this approach, stating, "One of the things that is foundational to us is that the people who work here feel that and know that we respect them and that we know they've chosen a most honorable service for their occupation.  Feeling that from us, from the families they serve, and from their residents translates into greater satisfaction for them and for our residents, and ultimately greater success for all."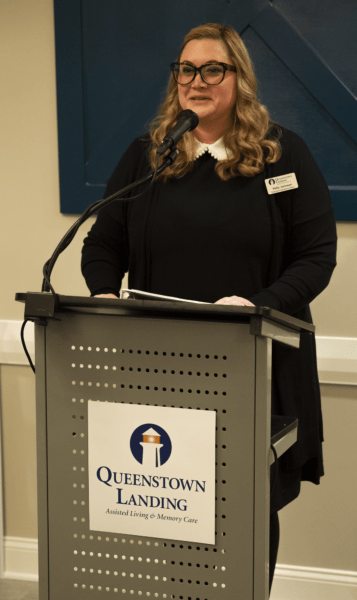 Kelly Johnson, Executive Operations Officer of Queenstown Landing, shared her personal story of coming to be at the helm of the community. "At one point I was driving from here to Baltimore every day, and if you only knew how many times i would make that drive and pray that someone would realize the need for a community like this.  Now, thanks to Doug Cooper, IntegraCare, Buvermo and my team, that prayer has finally been answered.   It's an incredible opportunity for our seniors to thrive here, and for us to be an employer of choice for the area.  I want to thank my team sincerely for working tirelessly for the common good.  Caring for seniors is perhaps the greatest responsibility we all have.  Those who have walked before us and have given us so much have made our present possible.  So it's up to us to know that, care for that, and to take that humbly and as an honor that as we care for them every day."
Before stepping outside for the official ribbon-cutting, Doug Cooper, Parter with SHA Capital Partners, along with Kelly Johnson, Executive Operations Officer of Queenstown Landing, presented the Grasonville Fire Department with a $25,000 check to support their tireless efforts to help protect residents of the area.
The new state-of-the-art Assisted Living and Dementia Care community is located just off  Route 50, ideally located adjacent to the University of Maryland Shore Regional Health Complex.  The thoughtfully designed features and amenities of this new assisted living community were built to impress and evoke the serene coastal community we call home.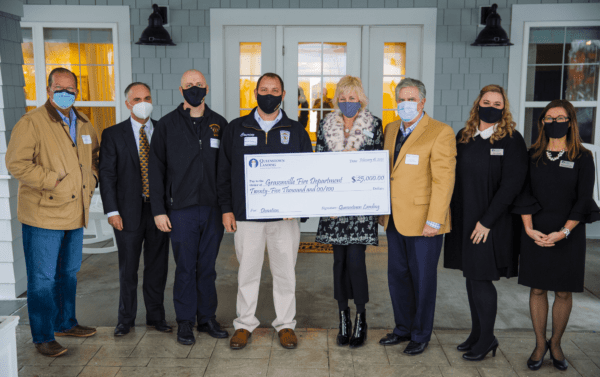 Numerous safety and convenience measures are in place for senior residents including smart locks, pocket doors, a secure Dementia Care neighborhood, and an emergency communication system in each apartment as well as heightened Covid-19 safety protocols such as entry, STAT air purification units and the Accu-Shield comprehensive screening tool.
The community features spacious studio and one-bedroom apartments, multiple dining venues, and a commanding courtyard with an outdoor kitchen and pergola to enjoy the beautiful coastal weather that Queenstown offers.  The residents will also enjoy a theater, library, living room, full-service salon and barber and is pet friendly!
For more information, please contact Beth Garrard, Digitial Media Manager at 724-940-5544