'Absence' performances set at senior living community in Camp Hill
     CAMP HILL, Pa. – The Woods at Cedar Run will deliver its own take on Peter M. Floyd's award-winning play about dementia during two dramatic readings of "Absence" at the senior living community.
The team at The Woods at Cedar Run will take on the roles of "Absence" characters during the dramatic readings on March 22 (7 p.m.) and on March 23 (2 p.m.). Tickets are $20 for the March 22 performance, which includes a cocktail hour at 6 p.m. Tickets are $15 for the March 23 event, which includes light refreshments at 1 p.m.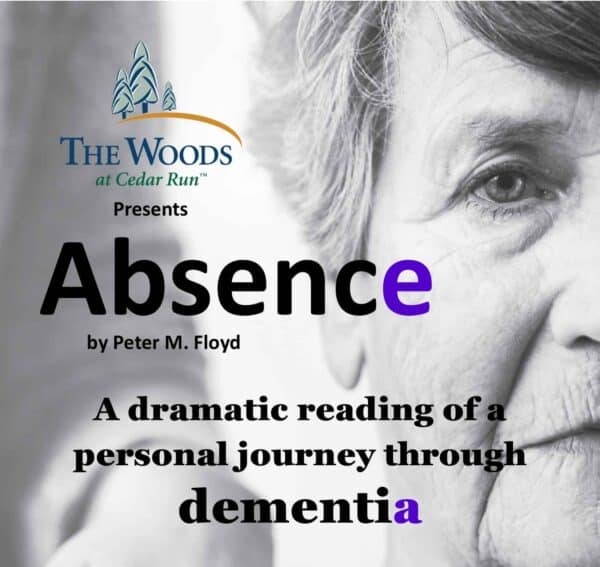 All proceeds will be donated to the Alzheimer's Association.
"Peter M. Floyd's script gives the audience a direct link into the world of Helen Bastion, a 74-year-old woman, as she struggles through the many stages of dementia," said Tim McCallister, The Woods' Director of Sales and Marketing who also will direct the dramatic reading. "The script reveals the impact the disease has on Helen's family, and the changes and challenges Helen encounters. There are many plot twists. The audience will feel that they are right there with Helen every step of the way."
IntegraCare operates 10 senior living communities in Pennsylvania and Maryland, including The Woods at Cedar Run.
IntegraCare senior communities involved in previous productions of "Absence" were Newhaven Court at Lindwood in Greensburg, Westmoreland County; Newhaven Court at Clearview, Butler County; and Candle Light Cove, Easton, Maryland.
Those plays were performed by actors at theaters or auditoriums.
"What will make The Woods' performance different is that it is a dramatic reading our team at the community will play roles in the performance," McCallister said.
The cast includes:
Linda Kyle, Director of Independent Living Operations, as Helen Bastion.
Ron Lyter, father of Marketing Assistant Malory Lyter, as David Bastion.
Malory Lyter as Dr. Delane and Ms. Moss.
Cindy Pereira, LifeStories Program Coordinator, as Barbara.
Rich Stewart, Dining Chef, as Dr. Bright.
Sophia Seilhamer, Activities Assistant, as Samantha.
"Our team at The Woods is excited to be a part of such an important and potentially impactful dramatic reading," McCallister said.
For ticket information and event details, contact The Woods at Cedar Run at 717.737.3373, or email Malory Lyter at mlyter@integracare.com.