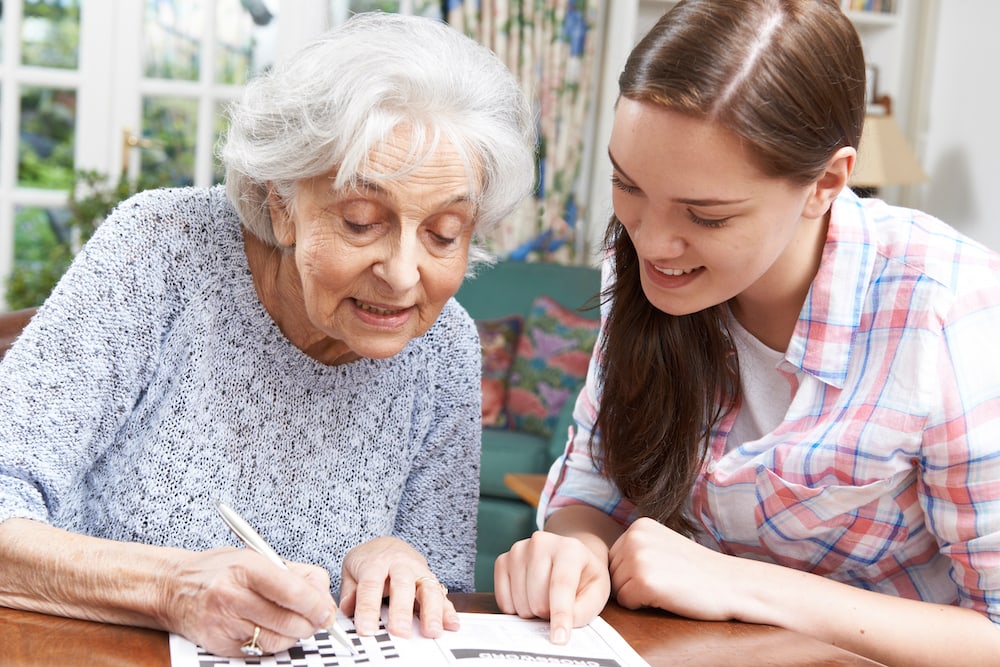 Many seniors may not fully realize how important it is to stay mentally active in order to keep their brains healthy. In order to help keep your senior loved one's brain in tip-top shape, here are 14 activities you may want to consider!
1.) Crosswords
Crosswords are a fun way to work your brain and keep it healthy. They can provide a mental challenge for many people, which is great for seniors who may be experiencing memory loss or other symptoms of cognitive decline. You may want to try using an online crossword puzzle creator for added convenience.
2.) Puzzles
Not only can puzzles keep your mind engaged, but they can also help you learn new things, as well as remember previous things you have learned. There are many types of puzzles you can solve, whether you prefer themed puzzles with photos on them or mathematical-based puzzles.
3.) Sudoku
Sudoku is a popular math puzzle that is designed to challenge your brain. You will have to use your analytical skills as well as your problem-solving skills as you try to figure out how it must be completed in order to make all the squares add up in the end. Sudoku puzzles can be found in newspapers and magazines, as well as online.
4.) Word Search Puzzles
Word searches are a fun way to make words without actually having to know what they mean, as you do not have to know the meanings of the words themselves in order to fill them in. These puzzles can be found just about anywhere, such as in newspapers, magazines, and many websites. You can print them out or use an online word search creator if you want to tinker with what you must do with the puzzle itself.
5.) Completing Sentences
This activity can be used to help keep your mind sharp, as you will have to recall things that you might have learned previously. This is a great way to increase memory retention and skills such as vocabulary since it can mimic the way your brain works in real life. If you do not know what is on the other end of the line in these sentences, you may need to look through a dictionary for a word that does not appear on your list.
6.) Video Games
Playing games can help keep the mind active and strong, which is important for older people who may be experiencing a mental decline. There are many different video games that can help with memory recall, logic, spatial thinking, and so much more. The more challenging these games are, the better they will work your brain, so try to find adventure or strategy games that make you think rather than just shoot things or move through levels at a quick pace.
7.) Chess
Chess is a popular strategy game that helps people think outside the box. It is a great way to stimulate the brain and keep it strong. If you are interested in chess but are not sure where to start, there are many helpful chess books and websites out there which can teach you how to play. It can be played either by yourself or with others, and you can also opt for a computer-based chess game if you prefer.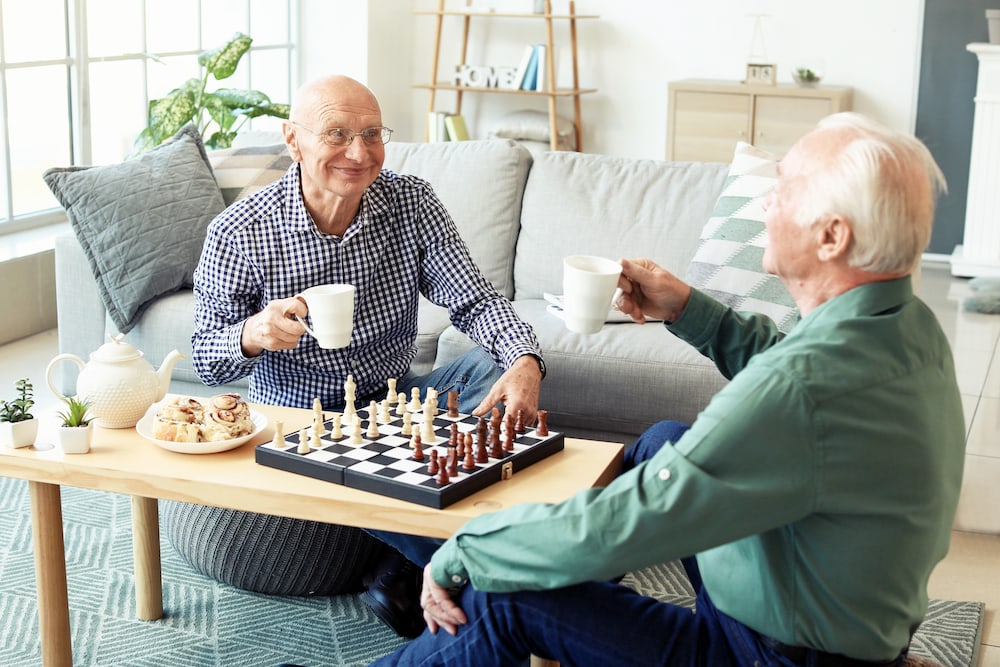 8.) Sing-Alongs
Singing can help keep the mind sharp, but it is also a fun way to get together with friends and family. There are many different songs that range from easy to hard, so you do not have to worry about there being too much of a challenge involved in this. If you are not sure how to sing, you can look up lyrics online or try looking at the sheet music to find what you are looking for. Check and see if your senior living community has a sing-along listed on the schedule!
9.) Reading Fiction Books
Reading fiction books can help stimulate the mind because it can put you in someone else's shoes, which can be a fun new experience. These books may also help you learn new things, as well as remember things that you have forgotten over time.
10.) Scrabble
Scrabble is a popular word game that can help stimulate the brain and keep it strong. While it may not seem like much of a challenge, you will have to think very carefully about how to find the best way to use your letters in order to form as many words as possible. It is popular with kids and adults, so it works for people of all ages.
11.) Brain Yoga
Brain Yoga can be used to help keep your mind active. It is a fun way to exercise your mind, much like physical yoga is an exercise for the body. Brain Yoga will have you moving your arms as well as your brain, so it can provide a great mental workout for all of those who are interested in it. You may want to find a few different websites that illustrate directions for doing this if you are not sure what you are supposed to do.
12.) Shopping List Game
Shopping can be a fun way to keep yourself occupied, especially if you have to go out shopping. Even though this may not seem like much of a game, it can work the brain in a different manner than other games that you could play. This helps you recall what you need to buy and keeps your mind active as well.
13.) Internet Games
There are so many different kinds of games you can play on the internet, such as word games, puzzle games, and strategy games. All of these can help keep your mind active and strong, whether you are playing them by yourself or with others. There are also several websites where you can play them from the comfort of your own home if you do not feel like traveling to a place to play them. You will have to sign up for an account in order to play these games, but it is easy enough for anyone to do.
14.) Identify Botanicals
There are many types of botanicals that you can grow in your garden, but figuring out what they are can be difficult. As you spend time in the garden, you will be able to try to identify different plants and flowers that you have planted or that have been planted near your home. This activity can help keep the mind active, but it is also fun to do.
Conclusion
As you have seen from the above-mentioned activities, there are many different ways that you can keep a senior's brain active, and some activities work much better than others, depending on what your goals may be. There are also many different hobbies that you can get into as well with this goal in mind, including fishing, camping, and so much more. Whatever your interests may be, find a way to stimulate the mind in order to help keep it strong, whether it is with a hobby or something else altogether.