Imagine A tremendous feeling of dread.  Your heart is pounding.  Your hands are shaking.  Maybe social situations now terrify you. You have withdrawn and refuse to attend social occasions. As you have grown older everyday mishaps seemingly become disasters and you are fearful of doing anything because you expect the worst to happen.  We all become anxious from time to time and some anxiety normal, even beneficial. However, when anxiety becomes troublesome and restricting to a person's life, it is considered to be an unhealthy psychiatric disorder.
As much as a quarter of all individuals experience anxiety to an unhealthy extent, and older people are at particular risk.  Those requiring activities of daily living, or ADLs, are more likely to experience this disorder.  In fact, 1 out of 5 seniors who need ADL help will experience anxiety symptoms 1.  Many of those symptoms are related to their loss of ability:
36% reported anxiety for unattended household activities
39% had symptoms of anxiety surrounding mobility
44% were anxious regarding personal care
Why Anxiety Is More Common in the Elderly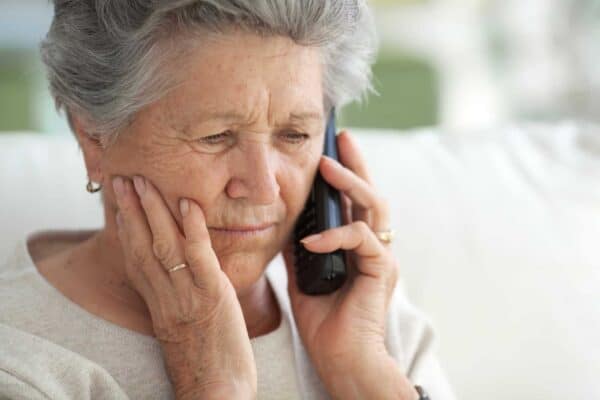 Elders face more troublesome anxiety than other age groups for several reasons.  First, older adults suffer from more chronic pain and other significant health conditions which creates more stressors that can trigger anxiety.  Second, as you age your support systems, your friends and family, often become sparse or disappear entirely.  Thirdly, memory loss exacerbates normal worries and fears, and memory decline increases with age.  Finally, other ailments and health challenges impede their ability to accomplish the simplest activities of daily living making each day seem foreboding.
Many people think anxiety is a state of worrying or being stressed out about something, but anxiety about aging is defined as worries brought up by imagining the negative consequences and losses associated with old age. 2
A large study published in the American Journal of Psychiatry (1998, A. Beekman) found that 10 percent of adults 55 to 85 years of age had elderly anxiety disorders-the same prevalence as for other age groups.
How Community Living Effects Age-related Anxiety & Loneliness
A recent study published in the Gerontological Society of America "Loneliness and Anxiety About Aging in Adult Day Care Centers and Continuing Care Retirement Communities" examined how formal settings like as adult day programs and care communities were related to reduced loneliness and thereby also reduced anxiety.  The study found that being in a continuing care community, with fewer impairments in activities of daily living were all associated with lower levels of anxiety surrounding aging.  By living in a community setting, those in the study experienced enhanced abilities due to the ADL services and activities provided in the community settings, which reduced the participants' age-related anxieties.
With regards to loneliness, the study also found similar results.  Those living in a care community enjoyed a stronger satisfaction with the services,, had fewer impairments in activities of daily living and experienced a lower sense of anxiety about aging also experienced lower levels of loneliness.3
As we have discussed previously, research shows that loneliness is a significant health risk to older adults.  Loneliness, when coupled with anxiety is therefore even more critical to identify.  Ultimately, it's important to understand and treat both.
Major Types of Elderly Anxiety Disorders in Older People 4
Acute Stress Disorder: Anxiety and behavioral disturbances that develop within the first month after exposure to extreme trauma.
Post-traumatic Stress Disorder (PTSD): Symptoms of acute stress disorder that persist for more than one month.
Panic Attacks: A sudden, unpredictable, intense, illogical fear and dread.
Social Anxiety: A preoccupation with how others view one's self.
Generalized Anxiety Disorder (GAD): A pattern of excessive worrying over simple, everyday occurrences and events.
Phobias: Irrational fear of situations such as heights, or fear of objects, such as snakes.
Obsessive-compulsive Disorder (OCD): A pattern of intrusive thoughts that assault the mind and produce extreme anxiety that can only be mitigated by an action, such as hand washing in a ritualistic way.
For seniors living with chronic anxiety, it can be difficult to describe to others what it feels like.  Chronic anxiety for the elderly and the adult children that care for them can be messy and unpredictable.  Overpowering and insidious both physically and mentally, it can quickly wear out the person afflicted and their caregivers.  At times these disorders are so unexpectedly debilitating those experiencing it can struggle to even move.
Chronic Anxiety: Overpowering & Insidious
Talking to your elderly parent or family member about any changes in their lives is one of the best ways to find out if there is a problem or a developing problem surrounding anxiety and loneliness.  Try to discover changes in the following:
Fears and concerns. Is uncle Joe fixated on the neighbor's activity and concerned that "there is something going on over there." Perceiving a real danger to his safety?
Prescription Drugs or other medicines.  Is grandma mixing up her medicines?  Taking two days at a time because she forgets?  Not taking her medicines at all?
Daily habits and behaviors. Does mom avoid things that she used to regularly do or ignore common household cleaning or hygiene?
How they feel.  A senior's mood and the expression of that, crying, indifference, and a loss of interest in activities are possible signs of despair. Anxiety and Depression are often linked, so it is important to look for signs of both.
How To End the Cycle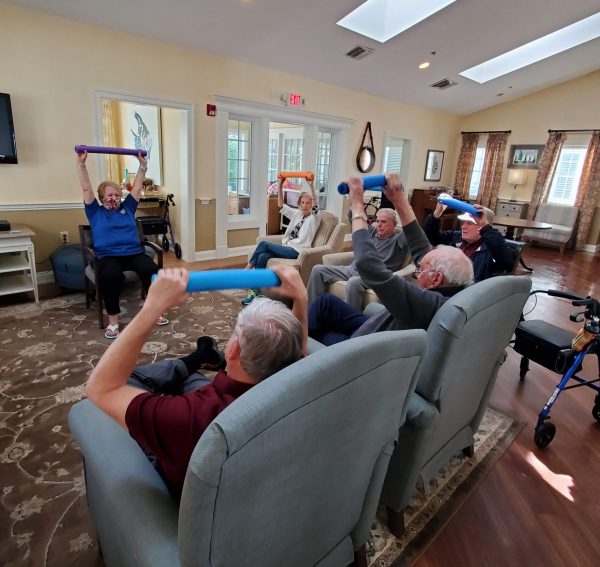 Living at home alone as you age contributes to perceived loneliness and increases anxiety about getting older.  Often, seniors want to stay at home because it seems a better, easier option.  It is imperative that we overcome the stigmas attached to aging.  Until society can do that, the supportive services that exist in continuing care and assisted living communities represent a wonderful opportunity.  In these settings, supportive services enhance and retain independence.  Social isolation is reduced with vibrant activities, which decreases loneliness and anxiety.  Physical activity returns as a regular part of life through group exercise and classes, which improves mood and mobility.  This improved mobility then helps seniors to remain more active, longer, reducing age-related anxieties and loneliness.
By overcoming the mental mountain to move and making a change to live in a senior living community, older adults can experience all the benefits associated with aging and reduce the effects of anxiety and loneliness often associated with aging.
Find Your Community   |   Our Covid Response  |  Senior Living, A Safer Place