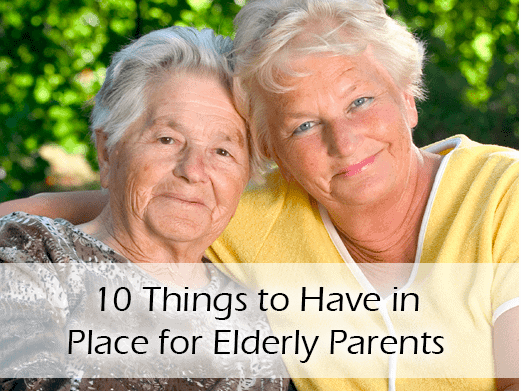 Caring for aging parents can be a challenge, but can be even more difficult if you are not prepared.  Working in the senior care industry, I've seen my share of unprepared adult children.  Though the conversation can be tough, it's important to speak with your aging parents about what their wishes are, what their financial status is, and about gathering their paperwork and being sure everything is in order.  Trust me, in the event of a crisis, having considered these things ahead of time will make all the difference.
Consider their Power of Attorney – Do your parents know who they wish to name as their Power of Attorney, or POA?  And have they considered having a separate financial and medical POA, or one for both?  It's important to consider family members' roles and understand the responsibilities associated with each of these titles.  Consider meeting with a family lawyer to better understand these differences and to draw up the simple papers.
Organize and Complete Legal Documents – Estate planning is more than selling the house.  It's important to have a will in pace to avoid questions down the road.  Also have them consider their preferences on who is executor, and include up-to-date living wills that describe their preferences in the case of dementia and end-of-life care. Do your parents have health care directives in place?  Make sure to know their end of life wishes and have these documents available.
Gather Important Documents In One Location – Documents like your parents' birth certificates, marriage certificates, insurance cards, social security cards, and legal documents should all have copies kept in a central location.  This will make those follow up calls with government agencies much easier for you.
Understand Your Parents Financial Picture – Know what financial resources are available to your parents and how to access them.  Their home has value, sure, but what about the mortgage on it?  What about the savings they have, pension funds, or annuities?  Is their insurance up to date? Are their accounts paid and up to date?  What are their short-term and long-term financial needs and resources?
Understand Your Parents Debts – Though it may not be a comfortable conversation, it's important to discuss any outstanding debts to be settled.  You may wish to consult a financial advisor to see what can be done to settle these debts and help make your parents' funds last.
Manage Medical Insurance – Know this upfront: Medicare does not pay for long term care.  To plan for care needs, you'll need to know about any long term care insurance policies your parents may have.  Confirm they're still current, and confirm what they will cover and for how long.  Also be aware of other policies such as medical plans, life insurance policies and veteran's benefits that may be available.
Healthcare Resources & Notes – Who are your parents' doctors?  What are their current ailments?  What is the prognosis?  Consider preparing a list of the physicians they visit and include contact information.  Be sure to highlight any life-threatening medical conditions they have and any life-sustaining medical devises they are using.
Medications and Allergy Information – Keep a list of their current medications and how they take their medications (with water? With a meal? Crushed?).  Also include with this information on any drug or other allergies they may have as well.  Finally, include any special diets they need, like low sodium for heart troubles.  Having this information together will make answering questions in an emergency situation much easier, for you and for your parents.  Keep a copy of this information for yourself, and be sure a copy is available in an easy place for your parents too.
Guard Valuables – Too often, as ailments like dementia set in, unsavory characters seize this and take advantage of the elderly.  Consider reviewing family heirlooms and precious items with your parents and decide if they should be kept in a safe place or distributed to family according to their wishes.
Lifestyle Goals – How do your parents feel about being independent or dependent? What is important to them at this stage of their lives? Do they have goals and dreams that they haven't yet reached? How important is location to them (close to friends versus close to family) when moving from home to assisted living?
By considering their medical, financial, and personal needs BEFORE a crisis will help you ensure you're doing the right thing for them.  This will allow you to focus more energy on your loved ones and less on technical needs at the time of a crisis.  Should you need any direction towards resources to complete important documents, or next steps, please give Mary Ann Stevenson, Director of Sales & Move-Ins a call at 412-341-4400.