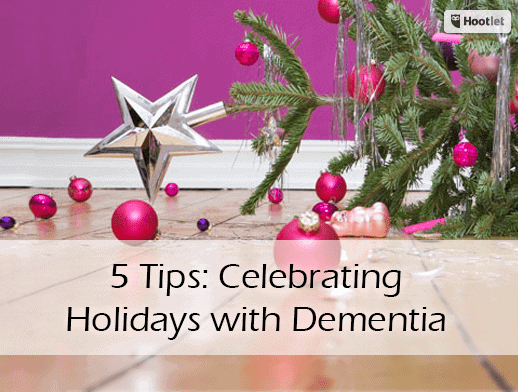 Mom Doesn't Seem to Remember the Holidays Anymore
How do I celebrate the Holidays with a Family Member with Dementia?
Familiar carols herald the approach of the holiday season, but for families who have a loved one with dementia the holiday season can be a double sided coin.  It could be a holiday that sparks memories filled with happiness and joy; a time to celebrate life, family and traditions; a time when Alzheimer's or a related dementia takes a "back seat".  Unfortunately, this season of Thanksgiving can also be filled with sadness, loss and an underlying sense of dread as treasured family traditions may no longer be recognized or remembered by someone with dementia.
Families can position themselves for success during this season through careful preparation and thoughtfulness.   You can create a positive atmosphere that will make a memorable and enjoyable holiday season.  The tips below have proven themselves over time but there is no one-size-fits-all. Consider your family, your traditions and you family member's current stage of dementia when making your plan.
1 – Consider Where You Celebrate
Routine and consistency are extremely important to someone with dementia. The busyness and traditions of the holiday season can add confusion and anxiety to their lives.  Keep this in mind when making the decision WHERE to celebrate the holidays.  While trips to family members' homes or attending a special church service may be your goal, it may not be a positive experience for someone with dementia because it takes them out of their "comfort zone" and into a world they may no longer understand.  If your loved one is to this point, consider bringing the celebration to their comfort zone.  Ask a favorite pastor to celebrate a small personal service with your family, or have the cookie swap at Grandmom's this year instead.
2 – Set Reasonable Goals
Careful and thoughtful planning, tempered with a dose of understanding is the best way to produce positive and meaningful results.  Recognize where your family member is in their memory loss journey, and meet them at their level with a reasonable goal for celebration.  Families are an important part of the holiday season for a person with dementia so remember to include your loved one in the holiday festivities, but do not overload them with too many faces or activities.  Listen to them as they express their joy and conversely, listen to them when they express the feelings of "overload"!
3 – Scale It Down
Celebrate in small doses.  Find special activities or celebrations that will assist in unlocking positive memories, like decorating a small tree with them for their room, bringing a basket of their favorite holiday cookies, and sharing a cup of coffee as you watch a favorite holiday movie.  These activities will bring the joy of the season to your heart, allow you to share in those moments, and may even trigger past memories, while keeping things simple and manageable.
4 – Manage Your Own Expectations
Manage YOUR expectations and begin by stepping into your loved one's "reality".  Flexibility is essential during the holiday season, and that goes double when dealing with dementia.  Be prepared to alter your plans if your love one becomes overwhelmed by festivities.  Have a back-up plan.  Keep holiday plans simple from the beginning to avoid setting both your loved one and yourself up for disappointment when the desired outcome does not occur.
5 – Prepare Your Loved One
Prepare your family member who has dementia for the increase in visitors during the season.  Look at pictures and stories from past holiday celebrations.  Schedule holiday visits during your loved ones "best time of the day", especially for those who have Sundowners.  Communicate with their caregivers to determine when this time maybe.  Limit "surprise" visits and drop-ins by people who don't often visit, as this could trigger more confusion.
Even those challenged with dementia still loves "gifts".  One of the best gifts is a scrapbook or small photo album filled with memories; pictures of family members, friends, places visited, favorite foods or homes they lived in, all representing the joys of the past.   This is a gift that will keep giving.  It will become an important reminiscing tool for you and for their caring team members if they reside at a community.
Remember the most important gift of all for a family member with dementia is the gift of unconditional love and acceptance all year long.