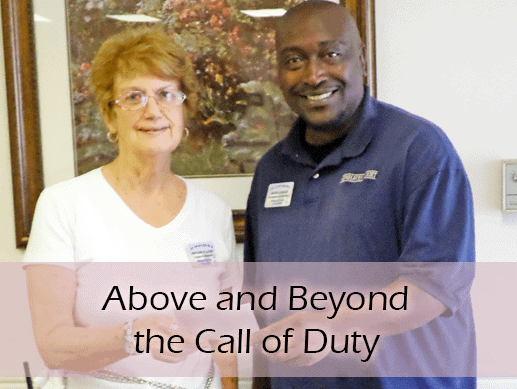 At IntegraCare, the core of our Mission Statement is our 3 Dimensional Focus in which our goal is to create an environment where our primary customer, our team members, experience respect, dignity and personal development.
This often comes as a surprise to those who are familiar with the fact that we provide care in Senior Living, Independent, and Memory Care communities.  Why isn't our primary customer our residents and their families?  The answer is simple.  By taking care of our team, they take better care of our residents, and in turn we have happy families.  That's the 3 Dimensional focus.
We have many tools and benefits available to our Team Members to help foster a workplace that engages them, provides the respect they deserve, and the acknowledgement for a job well done.  One such tool is the 'Above and Beyond the Call of Duty' or ABCD Program.
The ABCD Program is a program that recognizes outstanding performance by Team Members who demonstrate any of the following principles while at work:
Integrity – Strength of character to do the right thing, for our residents and for fellow team members
Enthusiasm – Demonstration that they are excited and passionate about what they do
Reliability – Consistency is critical when caring for our residents, and we reward those we can count on
Generosity – giving of time or resources beyond your shift
Flexibility – willingness to adapt to a changing environment, and pitch in when they can
When a manager sees a Team Member demonstrating these principles, the Team Member is awarded an ABCD card outlining exactly what great thing they did to deserve the card, as well as a small gift.  In addition, their ABCD card is their ticket to a monthly drawing for a bigger prize.
Recently, the Lucas family felt so strongly about the wonderful experience they have had at Newhaven Court at Clearview that they wrote us a beautiful letter of testimonial about it.  In the letter they highlighted several Team Members who have helped make their Father's difficult transition smoother, or helped to enlighten their Mother's experience in our Life Stories Memory Care Neighborhood.
In the Lucas' letter,  Mario, their Father's housekeeper, was noted for "Always having a smile, is gentle, caring and has a great sense of humor".    As a result of the kind words from the Lucas family, Mario received an ABCD card and gift, along with several other Team Members.  Mario's card will be added to the drawing for a big surprise at the end of the month – but he's in for some competition as, like the Lucas family said in their letter, we "have a lot of people that pull more than their weight to see to their residents' needs".