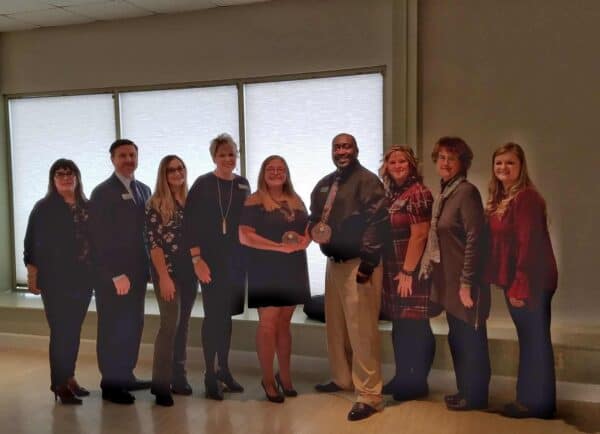 Two Team members were recently honored with the first annual Health Care Worker Recognition Award.  The Butler County Health Care Consortium and the Tri-County Workforce Investment Board, Inc. hosted the First Annual Health Care Worker Recognition Event on Thursday, January 25, 2018 from 9 a.m. to 10:30 a.m. at the Atrium Hall.  This event celebrated individuals who have made a positive impact for community members in a variety of health care settings through their expertise and outstanding care.  The criteria was as follows:
•    Directly and actively involved with the health care industry in Butler County
•    Have at least two years of experience in health care
•    One nominee must be a direct care worker and one must be a non-direct care worker
Mario Corder, a Housekeeping Assistant, employed for 9 years and Marlee Mauthe, a Medication Assistant, employed for 6 years, were the recipients from Newhaven Court at Clearview and we could not think of more deserving Team members!  They both exemplify excellence in providing care to our residents each and every day!
Our mission at Newhaven Court at Clearview is to improve the quality of life for our Team members and Residents.  Our goal is to create an environment where our primary customer, our Team members, experience respect, dignity, and personal development.  Providing this environment for our Team members will help us achieve the second half of our mission, a better life for our residents.
Please congratulate Mario & Marlee for a job well done!