Savannah State University presents Eloise Alston with Associate of Humane Letters Degree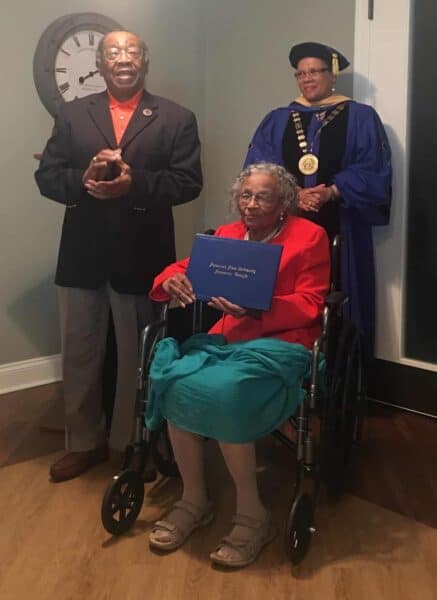 EASTON, Maryland – Approximately eight decades after she attended college, Eloise Alston received an honorary degree from Savannah State University.
Currently a resident of Candle Light Cove senior living community in Easton, Alston, 97, was honored as the Pomp and Circumstance graduation march song played. Savannah State University President Dr. Cheryl Davenport Dozier personally presented the Honorary Degree of Associate of Humane Letters to Alston.
"What an incredible honor for her to receive this honorary degree at age 97," said Cissy Nickel, Executive Director of Candle Light Cove. "Eloise is a delight to have her at Candle Light Cove. She is highly intelligent. After all of these years to be recognized by such an important university and to have received such an honor is really impressive."
Nickel said the ceremony was modeled after a college graduation and held on June 2 at Candle Light Cove.
"It was outstanding. It was like a formal college commencement," said Grace Stripling, Alston's niece who attended the event. "They actually played the music for her to enter with President Cheryl Davenport Dozier. They sang the Savannah State University alma mater at the end of the ceremony. It was just like being right there at the university. They had a meet-and-greet before the event and my aunt knew the people, which is remarkable. She was able to give a short speech, which was also remarkable."
After receiving her honorary degree, Eloise was heard saying, "It was a real nice day baby. I really enjoyed it."
A video of the ceremony featured Savannah State University President Dr. Cheryl Davenport Dozier's presentation:
"Recognized by the faculty for her community and public service with the Bureau of Engraving, Department of Commerce and retired from the Department of Navy after 38 years of government service," Davenport Dozier said.  "A leader in the District of Columbia, Savannah State University National Alumni Association, a lifetime member of the National Alumni Association, and past board member of the SSU Foundation. She has received numerous awards and citations for her contribution to Savannah State and has worked continuously to help the cause of Savannah State. The courses completed together with all the rights, privileges and honors pertaining there to, on behalf of the University System of Georgia and the Board of Regents, I confer upon you this degree for your steadfast commitment to Savannah State, with all of the rights and privileges appertaining there to. Congratulations."
Willie Roberson is a member of Savannah State University National Alumni Association's District of Columbia Chapter. Roberson met Eloise Alston during the mid-1970s and has been inspired by her ever since.
"Her parents were share croppers. Things got really bad and she had to go home to help her parents and her siblings," Roberson said, referring to Alston's reason for leaving college. "She decided to go to D.C., get a job and send home money to her family. Unfortunately, she never could finish her education. She's done a lot in her life. She's worked under several presidents and worked in the White House for some time."
Roberson first met Alston when Savannah State University students made a trip to Washington, D.C.
"She was a motivating factor for many people in this area who went to Savannah State," Roberson said. "She did a tremendous job raising money for the school and she had us contribute to the school. She was very good at organizing. That was her key, making sure everyone was organized, whether we were going back to Georgia or going on trips."
A native of Crawfordville, Georgia, Alston attended the Taliaferro County Public Schools before entering Georgia State College, which now is known as Savannah State University. She majored in home economics before leaving college to help support her family.
Alston moved to Washington, D.C., where she held positions in the U.S. Bureau of Engraving, the U.S. Department of Commerce, and the U.S. Department of Navy, where she completed 38 years of government service.
Even after her retirement, Eloise remained active in the community, working with her church, the NAACP and the YWCA. Alston also served as a White House volunteer.
Her role with the Savannah State University remained significant for decades.
The alumni association noted in 2017, "Seldom does an official or group from Savannah State University come to the Washington, D.C. area without stopping by to talk with Eloise Alston. The retired civil service employee is well known for her numerous financial and personal contributions to the university including establishing the SSU Penny Fund which continues to provide funds for current student enrollments and registrations to help them stay in school.
Ms. Alston has always been a very active member of the Savannah State University National Alumni Association District of Columbia Chapter and the national association. She is a SSUNAA life member and has previously been recognized by the SSUNAA with its top award. She is also a past board member of the SSU Foundation."
For more information, contact Cissy Nickel, Executive Director, Candle Light Cove, at cnickel@integracare.com or 410.770.9707.