IntegraCare earns recognition at Engaging Pittsburgh Awards event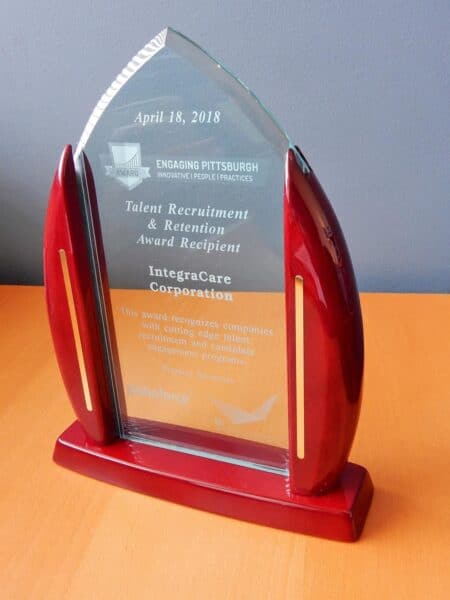 PITTSBURGH, Pa. – IntegraCare was well-represented at the Pittsburgh Human Resources Association (PHRA) Engaging Pittsburgh Awards event held Wednesday, April 18 at the Twentieth Century Club.
IntegraCare's Continued Attendance Rewards (CAR) Program was named the winner in the Talent Recruitment and Retention Recognition category.
Lori Grant, Executive Director at Newhaven Court at Lindwood, was among eight finalists in the Leader of the Year Recognition category.
"IntegraCare had a great showing at the PHRA's Engaging Pittsburgh Awards," said Brandon Smeltzer, Executive Director of Sales and Marketing at IntegraCare. "This recognition is well-deserved for our team members who have made the CAR Program such a success during the past three years, and for Lori Grant, whose dedication and innovation has been an important asset at Newhaven Court at Lindwood and throughout IntegraCare."
Since 2015-16, employees of all 10 IntegraCare senior living communities have been eligible to win the new car through the year-long CAR Program contest based on perfect attendance. Additionally, three grand prize winners at each community receive prizes such as a week's vacation, a television or laptop.
"This is a reward program for all hourly, non-management team members based on perfect attendance each payroll period," Walker said. "The CAR Program has generated excitement throughout the year and boosts morale and attendance throughout our communities. The announcement of the winners is one of the most anticipated days of the year for our entire team."
In three years, the CAR Program has made an impact on multiple fronts:
The number of IntegraCare employees with perfect attendance increased 46 percent in 2017 compared to the previous year.
Turnover in the first 90 days of the year, a critical period that factors significantly into employee retention, was down by almost 10 percent in 2017 from 2016.
IntegraCare's overall annual turnover decreased 12 percent in 2017 from the previous year.
Seven of 10 IntegraCare communities saw a drop in overall turnover percentage in 2017.
The largest drop in overall turnover was 77 percent in the community where the CAR Program winner worked last year.
Six of 10 IntegraCare communities saw employee satisfaction improve or remain steady from 2016 to 2017.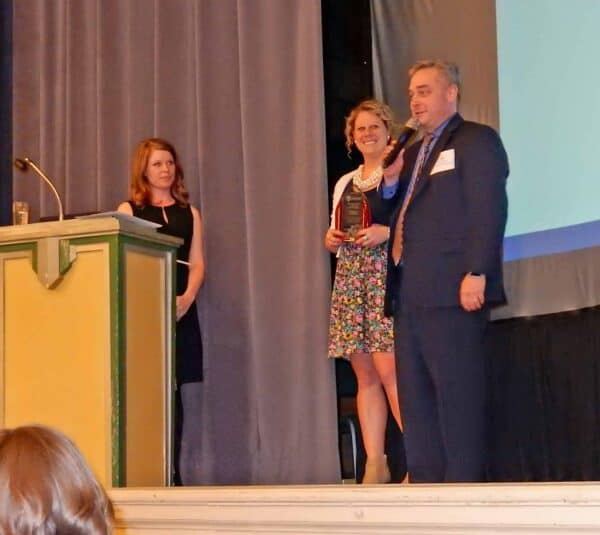 "Employee recruitment, retention and attendance are among the most significant hurdles our industry faces," Walker said. "One of the biggest challenges our front-line teams face is transportation to work. Consistently getting to work is a primary factor in helping our team members advance their career while maintaining a steady job. The driving purpose behind the CAR Program is to target these challenges and to provide a valuable and meaningful benefit to our team members."
"The chance to win a life-changing prize such as a new car or any of the other prizes or bonuses affiliated with the CAR Program is a recruitment benefit, a solid retention tool and encourages consistency in attendance – all of which lead to better customer service and higher quality care," he added.
Grant was a worthy finalist in the Leader of the Year Recognition category. Under her guidance, Newhaven Court at Lindwood saw a 65 percent decrease in staff turnover from 2016 to 2017.
Over the past seven years, Grant has enhanced and maintained the Newhaven Court at Lindwood's Emergency Disaster Plan. The planning and the upgrades never were more important than on the morning of Dec. 17, 2016, when a sprinkler pipe burst and flooded much of Newhaven Court at Lindwood.
Grant and her team spearheaded an efficient evacuation of residents who were temporarily relocated to a nearby hotel and a rehabilitation nursing center. Grant's vision and determination paid off on that morning and the weeks that followed. Eventually, the Pennsylvania Healthcare Association (PHCA) honored Grant as its 2017 Assisted Living/Personal Care Executive Director of the Year.
"Lori Grant is an exceptional leader," Walker said. "Her composure and dedication to the achievement of regulatory and company standards distinguishes her from her peers. She exudes an inspired leadership and her team is equally reflective of her positivity and strong sense of accountability."
"As staffing, relationships and retention are our No. 1 drivers of success, Lori's focus has made an impact. She does not compromise on standards when on-boarding new team members, regardless of staffing levels. She has worked tirelessly to improve the lives of her leadership and hourly teams, subsequently improving the lives of our residents."
For more information, contact Beth Garrard, IntegraCare Marketing Associate and Digital Media Manager, at bgarrard@integracare.com or 724.940.5544, Ext. 113.