Residents & Team Members returned after fire destroyed the original building.
CLEARFIELD, Pa. – George Anderson was among the first residents to return to Colonial Courtyard at Clearfield after the senior living community was rebuilt following a devastating fire caused by a lightning strike in 2013.
"It is really great to be here after all these years," Anderson said, as Colonial Courtyard at Clearfield celebrates five years in the spacious building at 1300 Leonard Street. "When I moved back in after the fire, I said, 'I've been praying for this forever."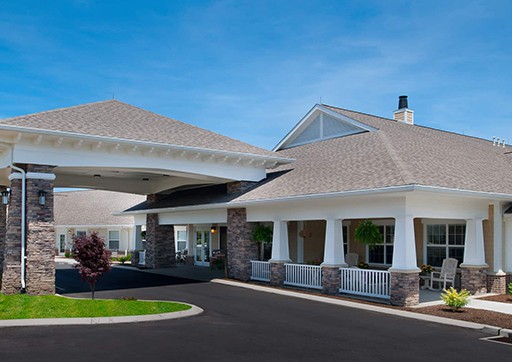 There were no injuries during the 2013 fire thanks to the efforts of the Colonial Courtyard at Clearfield team and the actions of first responders from throughout the region. The fast-moving blaze destroyed the building and displaced 60 residents as well as most of the team at the community.
"From the ashes of a tragic event, we have seen a new building that has since been occupied by loving residents and a dedicated team," said Miranda Coulter, Executive Operations Officer at Colonial Courtyard at Clearfield. "We have been fortunate to see our community, our residents, their family members and our team come back even stronger and more dedicated to our mission."
A total of 13 residents who resided in the community at the time of the fire eventually returned when the new Colonial Courtyard at Clearfield reopened in 2016. Six of those are still part of the community. Anderson was the fourth resident who had been displaced by the 2013 fire to return on April 7, 2016. He had been living in the community for about a decade prior to the fire.
"Time went by so fast," Anderson said.
The team at Colonial Courtyard at Clearfield also brought renewed enthusiasm that still abounds five years after the re-opening. "We have 10 staff members who came back after the fire and are still here, which is awesome," said Sandy English, Community Relations Director.
At 46,591 square feet, the current building is approximately one-third larger than the one destroyed on June 25, 2013. Colonial Courtyard at Clearfield includes 71 suites, with 49 of those in assisted living and 22 in memory care neighborhoods.
The rebuilding process included two phases of demolition, which began in October 2013. Groundbreaking for the new building was held in October 2014. A construction appreciation ceremony was held on Dec. 15, 2015 as the project neared completion. The grand opening officially was celebrated on March 10, 2016.
"In the first month of opening we moved 27 residents in," English said. "We welcomed 55 residents total in the first year of 2016. Overall, we have 71 suites here licensed for 74 people."