'Date Night' still holds a Special Place in Senior Couples' Hearts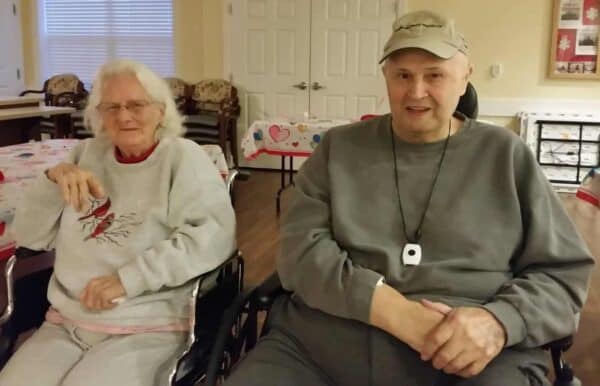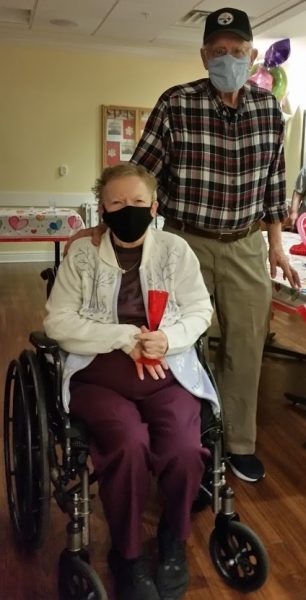 CLEARFIELD, PA.  – Even during a global pandemic, there's nothing quite like a "date night" to lift spirits and rekindle a special bond between two people.
Three couples residing at Colonial Courtyard at Clearfield recently had an opportunity to enjoy such a night while following pandemic-related guidelines at the senior living community.
While this special event coincided with Valentine's Day weekend, the spirit of the concept is embraced by the team at Colonial Courtyard at Clearfield throughout the year.
"The COVID-19 pandemic has created many obstacles and challenges, but we still feel it's important to recognize special moments and traditions as long as we can do so safely," said Miranda Coulter, Executive Operations Officer at Colonial Courtyard at Clearfield.
"We recently hosted a Valentine's date night of dinner and a movie for the three couples that reside in our community," she said. "They enjoyed a special candlelight dinner and dessert prepared by our dining experiences team. They were then treated to a movie in our movie theater complete with soda, popcorn, and boxes of movie theater candy along with some hand dipped chocolate covered treats prepared by our leadership team."
The couples included:
Charles and Mary Zitzelberger, who met in December 1952 in Liverpool, England when Charles was serving in the U.S. military. They were married in England on November 28, 1953.
"Date night was special for them because they went to take in a movie with friends on their first date all those years ago," Coulter said. "They had five children together. Their marriage advice for someone getting married today is, 'Always love one another and stay in love and never go to bed angry.'"
Paul and Ann Daniel met in 1965 in Houtzdale and have been together nearly six decades.
"Their advice laughingly, lovingly and simultaneously was, "Don't do it,'" Coulter joked. "One observation that you make with Paul and Ann is that they really do take care of each other. He watches and makes sure she gets what she needs and she, in turn, does the same for him. It is very sweet."
Benny and Barb Irwin were high school sweethearts and began dating in 1958.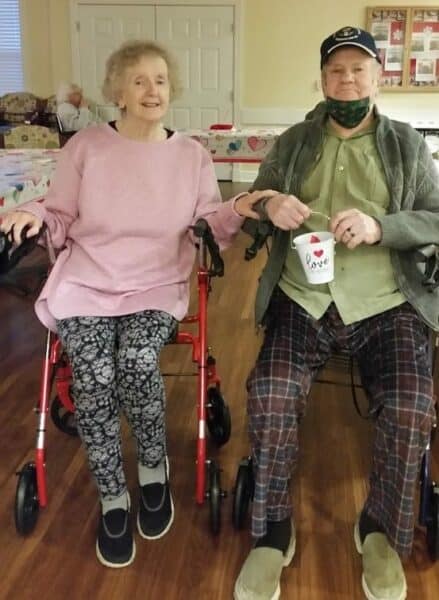 "They went on their first date to Elliott Park Restaurant," Coulter said. "They have three children. Their advice for anyone getting married today is, 'Be trustworthy to each other. There will be rough parts but you have to get through them.'"
While each of the couples followed guidelines intended to keep residents and the team at Colonial Courtyard at Clearfield safe, the date night still had special significance to all those involved in making the event happen.
"It was adorable to watch the excitement build in the couples, especially the ladies, in the days leading up to our date night," Coulter said. "We enjoy continuing traditions in our community. Traditionally for a lot of couples, Valentine's Day is celebrated with a date night. We were so excited to bring this to our couples."
"COVID restrictions have presented us with more than one challenge over the past year, but my team is amazing at overcoming anything we are faced with and worked together to make this happen," she said. "The joy in the house on the day of date night was endearing."
Coulter said it took a total "team" effort.
"Our care team loved helping our ladies to get their hair done and get ready for their special night," Coulter said. "Our dining services team worked hard to get dinner and dessert just right and worked out the logistics of safely serving all three couples. Our housekeeping team was found spiffing up the dining area and theater in the hours leading up to the date night. Our residents are the heart of our community and to see my team's passion come to life and their spirit of love for their residents show through this event was amazing."
For more information, contact Miranda Coulter, Executive Operations Officer, Colonial Courtyard at Clearfield, at mcoulter@integracare.com or 814.765.2246.