Senior living community receives Certificate of recognition from IntegraCare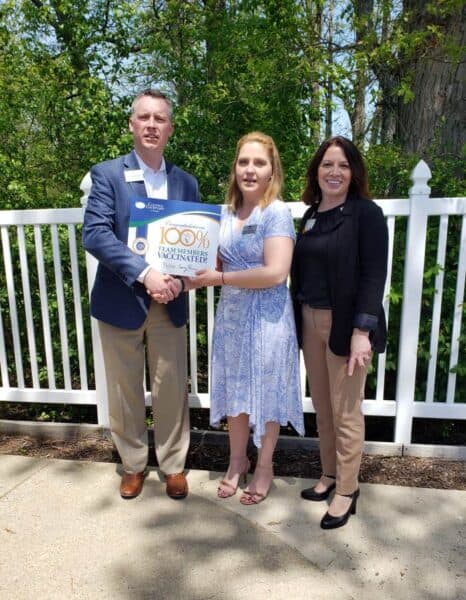 TYRONE, Pa. — The dedicated team at IntegraCare is accustomed to giving 100% while caring for its residents. Now, 100% has taken on a new meaning at IntegraCare's 13 senior living communities in three states.
Colonial Courtyard at Tyrone has attained a 100% COVID-19 vaccination rate among its 32 team members and has earned a certificate of recognition signed by IntegraCare CEO Larry Rouvelas.
"We take the safety and well-being of our team and our residents very seriously," said Rouvelas, who made IntegraCare a leader in the industry as among the first to make employee vaccinations mandatory during the COVID-19 pandemic. "We are proud of our team for getting vaccinated to protect not only themselves but also our residents. IntegraCare is a great place to work, a great place to live, and now is a safer place for all."
To ensure that team members and residents have access to vaccinations in the future, IntegraCare will work with Johnson Pharmaceutical Services, Inc., whose experienced pharmacists and technicians are leaders in the long-term care pharmacy model.
"Our continued focus is on vaccination of our staff and our residents as well as expanding visitation opportunities for our families and residents both inside and outside," said Putzier, President, and co-founder of IntegraCare.
Colonial Courtyard at Tyrone Executive Operations Officer Morgan Burroughs said her team viewed the vaccination as a path toward keeping the entire senior living community healthy and safe.
"We are proud of the team members for being receptive to policy changes and stepping up to get vaccinated to keep each other and our residents safe," Burroughs said.