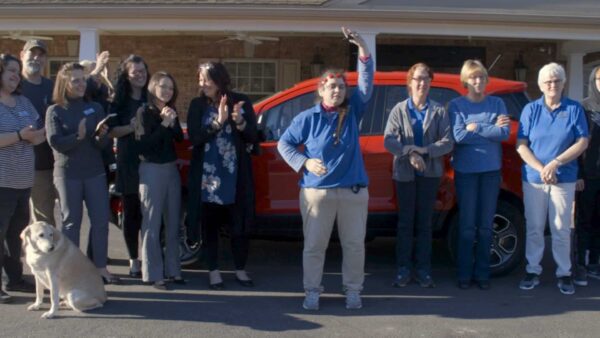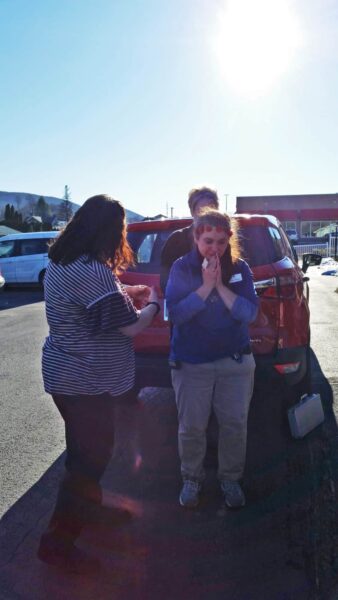 Angela Whited drawn as winner through IntegraCare CAR Program
TYRONE, Pa. – Angela Whited was with a resident in the LifeStories area of Colonial Courtyard at Tyrone when she was summoned to the entrance of the building on East Pleasant Valley Boulevard on Wednesday afternoon.
Whited, a Resident Services Associate who has worked at the IntegraCare-operated senior living community since 2015, wasn't sure what to expect.
As the doors opened, she saw a crowd of cheering coworkers outside. A shiny red Ford EcoSport was parked nearby.
Shannon Joyce, IntegraCare Director of Compensation and Risk Management, and Mindy Carrier, Director of Employee Benefits and Retention Programs, handed a set of keys to Whited, who was awarded the grand prize of IntegraCare's Continued Attendance Reward (CAR) Program based on perfect attendance in 2019.
Whited's name was drawn from among 33,704 entries of certified perfect attendance during 2019 payroll periods throughout 10 IntegraCare senior communities located in Pennsylvania and Maryland. The Fallentimber resident was one of 34 IntegraCare employees to have perfect attendance last year.
"Angela is a phenomenal person and care-gives with heart," said Jennifer Gummo, Community Relations Director at Colonial Courtyard at Tyrone. "She gives everything she has to her residents. She is a friend to all and often spends her time off playing cards or visiting with the residents. Colonial Courtyard at Tyrone is a better place because Angela works here."
Guidelines for the CAR Program state that team members will receive a raffle ticket for each payroll period they achieve perfect attendance during the year. For each consecutive payroll period with perfect attendance, all employees received additional tickets equaling the number of consecutive periods of perfect attendance.
In the first year of the contest in 2015, IntegraCare gave away eight cars – one in each of eight communities participating in the contest with the winner announced in January 2016. Now, IntegraCare annually rewards one winner with a new car.
Each of the 10 communities also produces three grand prize winners of items such as a big-screen television, a tablet, one-year Netflix subscription, Amazon Prime membership, vacation time or a Fitbit Versa 2 watch.
IntegraCare operates 11 senior living communities in Pennsylvania, Maryland and Virginia.
Last year, Lavonda Patterson, a medical technician who works the third shift at Magnolias of Chambersburg in Pennsylvania had her name drawn from more than 35,000 entries of certified perfect attendance during the 2018 payroll periods. She won a Ford Eco Sport.
Those IntegraCare senior living communities participating in the contest are:
Candle Light Cove (Easton, Maryland)
Colonial Courtyard at Bedford (Bedford, Pennsylvania)
Colonial Courtyard at Clearfield (Clearfield, Pennsylvania)
Colonial Courtyard at Tyrone (Tyrone, Pennsylvania)
Magnolias of Chambersburg (Chambersburg, Pennsylvania)
Magnolias of Lancaster (Lancaster, Pennsylvania)
Newhaven Court at Clearview (Butler, Pennsylvania)
Newhaven Court at Lindwood (Greensburg, Pennsylvania)
The Pines of Mount Lebanon (Pittsburgh, Pennsylvania)
The Woods at Cedar Run (Camp Hill, Pennsylvania)
For more information, contact Brandon Smeltzer, Executive Director of Sales and Marketing, IntegraCare, at bsmeltzer@integracare.com or 724.940.5544, Ext. 114.