Update: April 9th, 2020
At this time, we do not have any known cases of Covid-19 in our community.  While the rate of community-spread makes keeping Covid-19 at bay exceptionally difficult, our ability to hold thus far has been the direct result of the dedication and thorough commitment our Team has, and the cooperation of our Residents' family and friends.  Thank you all for your continued support!
Additional recommendations by the CDC this week cite that all should wear face masks to reduce the risk of spread.  All of our Team Members have been issued PPE and will be donning this equipment in accordance with those guidelines for use, while also following the CDC's recommended strategies to optimize the Supply of PPE.
All Team Members have also been asked to sign a pledge, outlining the specific steps they need to take to eliminate their risk of exposure to help keep our Residents safe.  This step serves as yet another reminder of the important precautions we all should be taking in our daily lives, including avoiding leaving your home, exercising social distancing when you must leave, the use of protective equipment when you are out, not touching your face to avoid infection, and thorough hand washing and cleanliness of yourself and your home to remove and kill any potential virus.
Our suspension of all non-essential visits to all of our communities continues to be in effect until at least Monday, 4/20/20.  We recognize that this represents is an inconvenience for many which we do not take lightly.  We understand and appreciate that visits from friends and family are important to our community's vitality, but the safety of our Residents and Team Members are our primary concern during this unprecedented time.  We will provide an exception to this visitation restriction only in end-of-life situations or if the health of the resident is in jeopardy.
We understand that connecting with family members is incredibly important, and there are a variety of ways you might consider connecting with them.  These alternatives include telephone, e-mail, text, Skype, Google Duo, or Facebook, which we are happy to facilitate with the technology we have available in our community.  You may also consider using our Virtual Hug portal at www.IntegraCare.com/Virtual-Hugs.
Please continue to be assured that we are in constant communication with our vendors to ensure we have enough food, medication, and other supplies to serve Residents.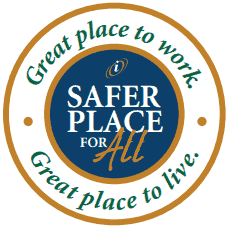 We are a great place to live.  We are a great place to work.  We are a safer place for all.
For more information, please contact your Executive Operations Officer at your community.  Stay Healthy!