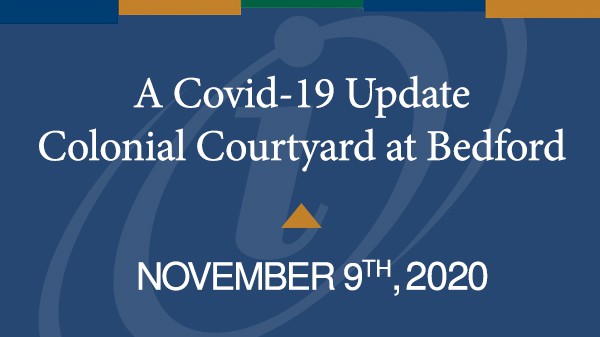 BEDFORD, PA. – Positive COVID-19 tests have been reported at Colonial Courtyard at Bedford, a senior living community in Bedford PA. Key facts known at this time:
Last weekend, on Sunday, November 1st, an ill resident went to the hospital. She was tested for COVID-19 and the community received notice late Sunday that she had tested positive.
The community increased its infection control protocols, informed government authorities, and contract-traced everyone that had come in contact with the resident and tested them.
On Monday, routine team member testing separately reported one team member tested positive. Contact-tracing and testing was done on those in contact with her as well.
The contact-tracing test results were received on Wednesday: 6 residents and 1 team member tested positive. All team members and residents were then tested.
The additional test results received late this week show a total of 27 residents and 8 team members positive. Additional test results are expected back in coming days.
Of the positives, 3 residents and 3 team members are symptomatic and the rest asymptomatic. The resident who originally tested positive is now considered recovered.
The community is in regular contact with its medical director and the state epidemiologist for guidance. It is also in contact with families of residents to update them on the situation.
The community is managed by Wexford PA-based IntegraCare. It is located at 220 Donahue Manor Road in Bedford.
IntegraCare and regulatory authorities are currently evaluated how COVID-19 spread in the community. Findings are not definitive at this time.
Larry Rouvelas, the Chief Executive Officer of IntegraCare, adds: "Right now, we are focused intensively on caring for the ill and protecting those who are not. In the last seven months, IntegraCare's COVID-19 protocols have been substantially effective at preventing outbreaks. So we want to determine how COVID-19 spread within this community.
"I am deeply grateful for our team members who continue to show up to work– despite COVID– to care for seniors. Heroes may be an over-used word these days… it really should be reserved for my colleagues on-the-job right now in Bedford."
Any changes in a resident's condition will be promptly communicated with their families.  We ask everyone for their patience at this time as our focus is on the safety and well-being of our Residents and Team.  Extraneous time spent on the phone takes away from time spent caring.  We assure you transparency and communication are top priorities now and always, and we will share information as soon as there is news.