Our weekly testing continues across all three states, PA, MD and VA.  We are COVID-free in all Pennsylvania and Maryland communities.  In Virginia, we had a contract team member and a community team member test positive for COVID. The contact tracing revealed the source and we subsequently tested all team members and all residents this week. We expect all results early next week. The elevated safety protocols and limited visitation are back in effect until we move back to COVID-free status.  The safe practices in effect facilitated early identification of the source.  The protocols continue to work.
We Hear You
Outdoor visitation continues and the visits are now numerous.  We are veraciously working on our plans for inside visits.  A few of you reached out to me this week with questions and experiences you had at your local community.  Thank you for sharing your nice visitation experiences and photos, as well as the areas where we can improve moving forward.  We appreciate your partnership in reconnecting you with your loved one.  The adage that you need to take baby steps before you walk surely applies here.  We look forward to the walk together to keep it a safe place to live and work.
Life in Our Communities
Beauty and barber visits continue and that brightens spirits.  Engagement programs are occurring and residents are having fun.  We are celebrating birthdays, anniversaries & team member recognition, and most importantly, residents are dining with their friends in the communal dining.  The communal dining experience, socially distanced with all protocols in place, is the single most uplifting and emotionally encouraging event to date.  Connections and conversations with friends, accompanied by a home-cooked meal, are both comforting and normal.  We are working to further these opportunities and to include families and friends where when it is possible.
Preparing for Covid is similar to how Olympians live their lives, preparing for the biggest race of their lives.
We've trained and trained…….and trained.  We have the right shoes.  We have on our lucky shirts. We are even wearing our lucky underpants.
We know how to run the race and we can see the finish line.  It is within our reach.
That is how I think about COVID-19 and our efforts, training, practice, and preparation over these past seven months.  With all of that preparation and vision, each week brings us new challenges that we did not know were coming.  The run gets longer and the practice must change.  We are committed to the finish line and we will get there together.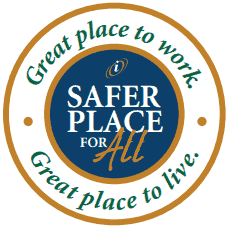 We are a great place to live, a great place to work, and a safer place for all.
For more information, please contact your Executive Operations Officer at your community.  Stay Healthy!