How Do We Know We're On the Right Path?
We are sensitive to concerns about resident isolation and the effect on well-being.  The balance of safety and well-being weighs heavy on our thoughts.  We must ensure our residents are safe from Covid, but a significant part of our programming also serves to enrich our residents' lives.  To do both has been a balancing act.  Please rest assured that connections are increasing and our residents and teams are meaningfully engaged outside the residents' apartments.
Here are some examples of those meaningful engagements:
At Magnolias of Lancaster, Resident Dr. Paul and his wife Carol celebrated their 55th wedding anniversary together.
At Newhaven Court at Clearview,  Resident, Dennis, loves to play the piano and his beautiful live music fills the halls every morning. There is no pandemic stopping his gift of music!
At The Woods at Cedar Run, joy is not canceled, it is amplified! The Woods Team hosted a very special 100th birthday celebration for resident, Mildred!  Now that was some party!
At Candle Light Cove, opportunities to learn and grow continue.  Residents learned about fall harvest fruits and vegetables and hosted a corn husking competition! Did you know that corn husking is a special skill?
These four wonderful stories exemplify that resident engagement still happens daily in the communities.  We try to share it through community communication and social media but we know the lens in is small.  We plan for the day when the "new normal" is normal!  Until then, know that our dedication is to connections, engagement, and resident safety and well-being, and that is occurring.
Covid Testing Update
Our weekly testing continues across all three states, PA, MD & VA and we are grateful to report that we remain covid-free.
IntegraCare continues to monitor Covid-19 infection rates by region and adjust testing and other protocols as needed.  Testing protocols have changed based on increased incidence rates.  Testing is now 100% of staff and any resident who has had outside contact within the last 14 days in the following communities where local incidence rates exceed 5%:
Colonial Courtyard at Bedford
Colonial Courtyard at Tyrone
The Woods at Cedar Run
Magnolias of Chambersburg
Magnolias of Lancaster
Newhaven Court at Lindwood
Hunters Woods at Trails Edge
Visiting Update
Outdoor visits continue whenever possible.  We are also excited to report that indoor visits, by appointment, are now underway and the residents are so joyous to see their families and loved ones.  Our Executive Operations Officers also report that our residents are thrilled to be back to dining with their friends, enjoying more small group activities, and having schedueled visits with their families makes it feel more like home again.
We are in the midst of the third surge of Covid-19 heading into the holiday season.  We are disappointed by this as it necessitates that we evaluate all processes already operational and modify our opening plans for the holidays.  My message next week will focus on the holiday season and what makes the most sense to keep our residents and teams safe.  I am sure you'll agree that we have come a long way over these past eight months? Right? A prudent approach will result.  Stewardship of our residents is our number #1 priority….a safer place for all.
How is Our Team Doing?
Our Team Recognition continued this week and many IntegraCare Home Office Team was able to join in.  It was heartening to see the dedication and empathy our teams have for our residents and for you.  It was humbling to see.  These are the heroes that keep your loved ones engaged, connected, and safe!
This pandemic is a journey.  If we celebrate the small moments along the journey's path, the destination will be even sweeter. Have a nice weekend.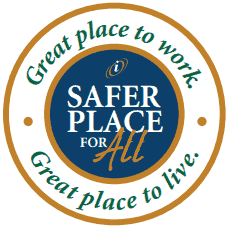 We are a great place to live, a great place to work, and a safer place for all.
For more information, please contact your Executive Operations Officer at your community.  Stay Healthy!