Now more than ever we need alignment with our families and team members and it is a time to step back – each of us –  and commit to what matters most – safety for all.
What is happening nationally with the spread of covid?  
We all watch the same newscasts and read the same articles.  Covid rates are rising at astronomical levels. The US reported 150,000 new cases yesterday alone.  For the fourth time in the last week, Pennsylvania set a new covid-19 record: the PA Department of Health reported 5,488 new cases of covid-19 .  That's an increase of 777 cases. This brings the statewide total to 248,856. (As of 11/12 published numbers)
What is the incidence rate in our markets?
This exponential climb in cases is reflected in the rise in local incidence rates in the locations of our communities.  All states within our market are paying close attention to the Positivity Rate:  the percentage of all coronavirus tests performed that are actually positive, or: (positive tests)/(total tests) x 100%.
The threshold for concern in incidence rates is at or above 5%.  As depicted in this data, this is not the time for us to loosen restrictions.  It is a time of reinforcement of safety protocols and restricted access.  We need your help and support now more than ever.
| | | | |
| --- | --- | --- | --- |
| State | County | Town of ICC Community | Positivity Rate (11/10/20) |
| PA | Allegheny | Pittsburgh | 4.00% |
| PA | Bedford* | Bedford | 13.80% |
| PA | Blair | Tyrone | 7.10% |
| PA | Butler | Butler | 6.10% |
| PA | Clearfield | Clearfield | 6.00% |
| PA | Cumberland* | Camp Hill | 5.40% |
| PA | Franklin* | Chambersburg | 11.70% |
| PA | Lancaster | Lancaster | 7.10% |
| PA | Westmoreland | Greensburg | 7.60% |
| MD | Talbot | Easton | 2.60% |
| MD | Queen Anne | Queenstown | 4.90% |
| MD | Ann Arundel | Annapolis | 4.90% |
| VA | Fairfax | Reston | 9.10% |
Testing For Covid In Our Communities
We'll begin by sharing the 6* communities that remain covid-free. They are:
Newhaven Court at Clearview – PA
Newhaven Court at Lindwood – PA
Colonial Courtyard at Clearfield – PA
The Pines of Mount Lebanon – PA
Magnolias of Lancaster – PA
Hunters woods at trails edge – VA
Unfortunately, we do have active covid cases in the remaining communities.  Please note that this is where we are as of Friday the 13th.  The testing results come in throughout the day so situations change multiple times.  We are working diligently to provide you the most up to date detail.
Colonial Courtyard at Tyrone
 We had 1 team member test positive
We reported to the state, conducted 100% testing, and all results are negative
We have another round of testing underway to confirm the negative results
Magnolias of Chambersburg
14 residents are infected with the virus in our senior living building.  All are in quarantine and are being monitored closely for vitals, pulse oxymetry, and changes in condition
We await test results from earlier this week on 100% of team members
7 team members are positive, and another is presumed positive because of symptoms.  Both are at home, nursing back to health
We have no infected residents in memory care at this time
The team is reporting to state officials, working with the department of health and epidemiology whose response is that franklin county is "on fire w/ covid" right now
Colonial Courtyard at Bedford
51 residents confirmed positive for the virus
19 team members tested positive for the virus, most are a-symptomatic
all teams are supported by our home office regional team leaders.
We are working directly with the department of health and the epidemiologist right now.  Bedford county's incidence rate is exceedingly high as noted earlier.
We are retesting negative residents and negative team members twice weekly and results are pending.
Candle Light Cove
1 team member confirmed positive
We testing all team and residents
We are working directly with the department of health
*The Woods at Cedar Run
1 team member confirmed positive
We testing all team and residents
We are working directly with the department of health
*At the time of the Video Address recording, this positive result was not yet known
What About Thanksgiving?
What we know is that as the incidence level in the local areas rises, so does the incidence rates in senior living communities.  (PA Department Of Health Incidences)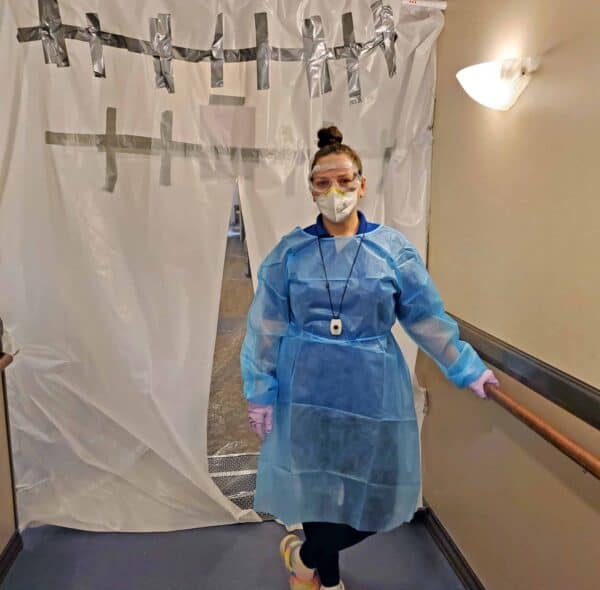 We have the perfect storm of trying to accommodate visitation, surging virus levels in every county where we operate, and a pervasive fatigue among the public with the protocols.  For months the danger of large events has been a focus of state and local restrictions and of media coverage. These restrictions, while tiresome, are easy to understand…. but maybe they are not easy to accept.  Experts say less attention has been paid to the literal peril of small gatherings among family and friends, who may appear healthy, and we are relaxed and stop short of taking full precautions.  As the weather has changed and most of us are indoors, we need to face the fact that we are "sharing the virus around the kitchen table" now.  Public health experts advised us in the early summer that we would have a surge in the virus in the fall, and here it is.
So, it is with this in mind that we share how we are going to proceed with our Thanksgiving Celebrations at each community.  We urge you to consider all points here to help prevent the spread of the virus.  We have great plans to make the celebrations very special for our residents and team members.  Sadly, for the first time in our history as a company, we will not be able to host guests in our communities for the Thanksgiving feast because of restriction protocols we are using to countermand the threat of the surging virus.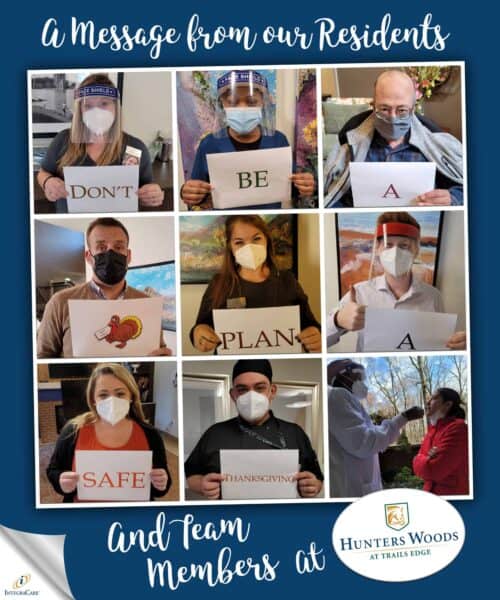 Please, Stay Home
Knowing how sacred this holiday is in our American culture, how much we have all sacrificed for too many months,  and how very much we all want to be together more than anything, this next appeal is not made easily.  We ask for your patience and support.  We ask that you respect the surging virus numbers and impossible case counts as a real threat to the safety of your family member residing in our community, and a real threat to the team workers and their families.  Knowing you are fully within your right to do otherwise, we implore you not to take your family member out of the protection of the senior living community where they live for your holiday celebration.
We see the current surge as a very real danger.  We agree that all of this is unreasonable, disappointing, and supremely frustrating.  As reasonable people, all we can do is present our case, and ask for serious consideration.  If your family decides that alternatively to take your resident family member out into the greater community for the holiday, we will work with you to prepare a unit in advance in our quarantine area "just in case" neighborhood where the resident will be quarantined upon their return under our infectious disease protocol for a period of 14 days, producing two negative tests to return to their apartment unit.  Please realize that t
This means the resident will not be able to leave their apartment for the entire 14 days of their initial return.  There are also costs associated with the time in the "just in case neighborhood."
A communication from your local community Executive Operations Officer will follow shortly sharing what will be occurring for thanksgiving at your community.  We will celebrate all that is good given our circumstances and it will be special.  That is our commitment to each of you.
These unprecedented times call for unprecedented diligence and restraint from all of us.  We are working toward a better day and the restoration of our personal connections.  Until then please help us safeguard our residents and team members.  We need you.  God bless and please practice your safety protocols.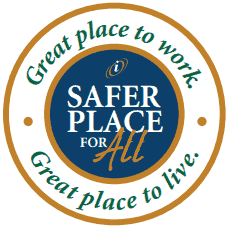 For more information, please contact your Executive Operations Officer at your community.  Stay Healthy!