Covid Testing Update

Pennsylvania: We completed our universal testing and continue to test 20% of our team members per week.  In 7 of our 9 PA locations, we are COVID-free.  There is one COVID-19 positive asymptomatic individual in our Chambersburg community and one positive asymptomatic team member in our Greensburg community.  We continue to test in both affected communities until we are 100% negative for COVID-19. The testing is effective,

Maryland: We continue to test 100% of our team members and healthcare providers weekly and are now COVID free.  We are awaiting a few results from our memory care program.

Virginia:  We are completing the 20% team member weekly testing and remain COVID-free.
Outdoor Visiting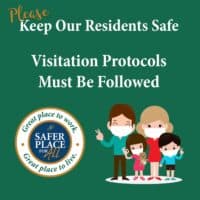 Keeping families connected to their loved ones is critical and we continue to work to enable as much connectivity as we can while protecting our Team and our Residents.  We are having success so far as we have begun to open for outside visits, and that success is in part due to the cooperation of families in following proper protocols and respecting mask and distance requirements.  Please be advised though that the moment COVID is detected in a community through our monitor-testing process, we temporarily must cease visiting at that community until a new baseline, free of COVID, can be achieved.  This is to arrest the spread as quickly as possible.  We appreciate your patience as we work through these stages.
Our outdoor visitation plans are now underway.  Here is the rundown for the week:
What's Next?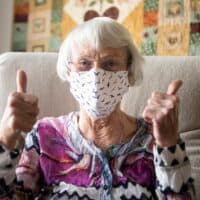 Our team continues to plan for all communities to adopt outdoor visits and are working to come up with additional visiting options as the season changes.  Inside our communities, we are also working towards restoring communal dining for residents.   With each plan, we are working within the framework of regulatory requirements and a prudent approach to keep our residents and team members safe. Our leadership and regional teams are engaged in these objectives, daily.
We also continue to recruit dedicated team members to ensure that we have the right staffing levels to effectively accommodate all visits while serving the residents inside the community.  If you are interested in joining our team, please visit our Careers site to apply.  We welcome you!
One of the things we believe is that success and longevity are "a game of inches."  No one action will achieve the goal but rather it is multiple well-planned and executed plans that combine to create the desired outcome.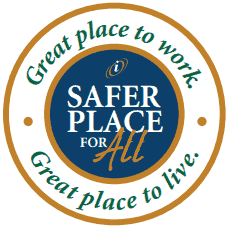 We are a great place to live.  We are a great place to work.  We are a safer place for all.
For more information, please contact your Executive Operations Officer at your community.  Stay Healthy!