Covid Testing Update
Weekly testing continues across all communities in Pennsylvania, Maryland and Virginia.  We are once again COVID-Free* across all our communities.  (*At the time of recording our weekly video update, not all results had come in.) Our second round of testing at our Tyrone, PA community came back Friday 9/18 morning and the results were all negative. We are pleased to hear this news as it means they can return to forward-moving steps.
Opening Visiting
Outdoor visits continue, with more visits happening every day.  They've been joyful, inspirational, and fun! We are open for resident group dining, expanded resident engagement opportunities, and working to expand the frequency of these activities within each community.  We are also increasing our outdoor visitation opportunities across all communities and are happy to see so many familiar faces with our residents.
Our residents are enjoying their inaugural visits to our community beauticians and stylists.   Everyone looks rejuvenated and happy!  If you are a family member or resident and were not aware, your local community is paying the cost of your first visit back to the salon.  See your onsite team for details.
What's Next?
Our next step is to plan for visitation indoors, assuming we remain COVID-free.  That is our #1 goal – reconnecting residents and families.  In addition, we continue to test weekly at each community and are encouraged by our consistent COVID-free results.  We strive to be a safer place to live – safer than at home alone.  Our approach to date is effective in ensuring those results.
I believe that progress and success are a "game of inches". There is not one big thing that will propel us to the finish line.  It is a deliberate execution of many smaller things – the "game of inches".  That is what we do best.  Thank you and enjoy the fall weekend!
As always, we will continue to keep our residents, their families, and our Team informed.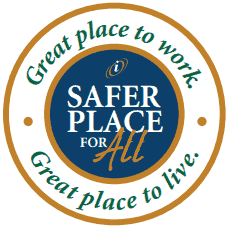 We are a great place to live, a great place to work, and a safer place for all.
For more information, please contact your Executive Operations Officer at your community.  Stay Healthy!