Testing Updates
Weekly COVID-19 testing continues across all communities in all three states, Pennsylvania, Maryland, and Virginia.  We are once again COVID-free in all communities.  We are proud of these results and thank you for your on-going support.
Opening Updates
Outdoor visiting continues and the visits are now numerous.  We are veraciously working on our plans for indoor visits as we move into the fall season.  I believe you are all receiving updates for your local community from our executive operations officer.  This is our priority – staying COVID-free while re-establishing connections between our residents and their families.
Our Healthcare Heroes
October is when the communities across our organization honor team members who have reached milestones of service through a special token, earned benefits, and a brief ceremony.  This week, we held our ceremony at IntegraCare, the management company for your local community.  I am humbled by the dedication, commitment, years of service,   and work ethic of these professionals that support your local community and your loved one.  They all approach their jobs with sincerity, determination, and empathy.
I ask you to consider how many times you see that in the other aspects of your personal life?  Our teams are those people in your life who strive to make a difference – the mission-minded few!    I urge you to reflect on those caring for your loved one and to send me a message if there is someone you wish to recognize.  My e-mail address is lputzier@integracare.com.  We want to ensure that those who choose this occupation realize the impact they have on the lives of so many.
It is going to be a beautiful fall weekend.  Please take comfort in the fact that we continue to focus on remaining a safer place to live and work….and safer than at home alone.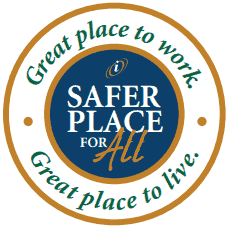 We are a great place to live, a great place to work, and a safer place for all.
For more information, please contact your Executive Operations Officer at your community.  Stay Healthy!