Working with residents living with Alzheimer's and dementia, we see how this disease robs people of their memories and eventually the things that make them who they are.  What isn't always shared is how the disease takes its toll on their personalities, including skills and hobbies they've long since mastered.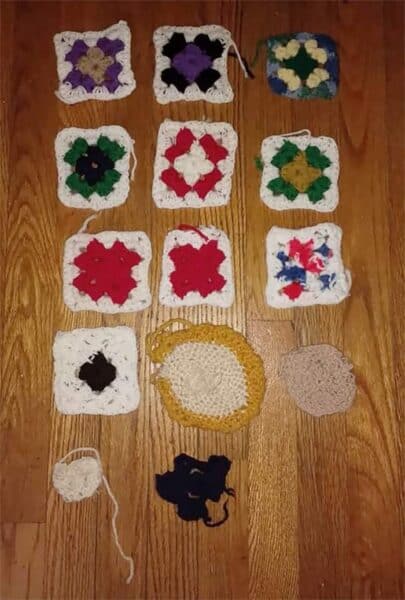 For Reddit user wuillermania, a 34-year-old woman from Camden, New Jersey, her Mother was always known for her talent with her needles and yarn.  Crocheting was second-nature to her Mother.  So when wuillermania came across a bag of crochet projects her mom had worked on in the first two years after her mother's Alzheimer's diagnosis, she felt "compelled to lay them out in a way that tracked the progression and take the photo."
The photo she shared was of 14 crochet squares descending from oldest to most recent.  It's a heartbreaking visual representation of the disease's progression as it robbed her Mother of her talent.  The photo was first shared on Facebook and, later, Reddit, where it racked up over 4,000 comments at the time of this post.
Describing her Mother's progression with Alzheimer's through her crafting, wuillermania shared, "…[Mom] made squares for a while, then the circles, then the little pieces of crochet, until she got to the point where she just carried around the needles and yarn in her purse."
She further explained, "It has been a few years since she was able to speak and several since she was able to identify who I am."
Support through friends, family, and even strangers is critical for those who are caregivers of loved ones with Alzheimer's and dementia.  The Reddit community rallied around her, sharing their experiences and goodwill.
User sinkorschwim shared, "Thank you for sharing your story. My dad was diagnosed with early onset ALZ  at the age of 63. It's been an incredibly difficult journey at times, but hearing from others like yourself reminds me that we're not alone. My family fortunate to live in a city with lots of creative aging and memory loss programs that have made a really positive impact for my dad. He doesn't crotchet, but he does like to draw. Here are a few of his pieces that I shared on r/alzheimers a year or so ago. I love looking at them. Thank you again and I wish you and your family peace and strength as you move forward."
Artistic expression is just one of the many methods of therapy and engagement that our LifeStories Memory Care directors utilize with our residents living with Alzheimer's and Dementia.  We also offer monthly support groups and are preparing to launch our own 'Art For Alzheimer's' campaign designed to educate and elevate awareness about Alzheimer's and dementia.  You can learn more about a pilot for the program that occurred at Candle Light Cove in Easton, Maryland, here.
Raising awareness is the first step in the fight to End Alzheimer, and it was courageous of wuillermania to share her story.  "I will never get over having my mother taken away, but at this stage, I want to do whatever I can to teach people about this disease and hopefully let someone else who's going through this know they're not alone," she wrote.
For more information about Alzheimer's and Dementia, visit our resource page here, or call the Alzheimer's Association Helpline at 1-800-272-3900.