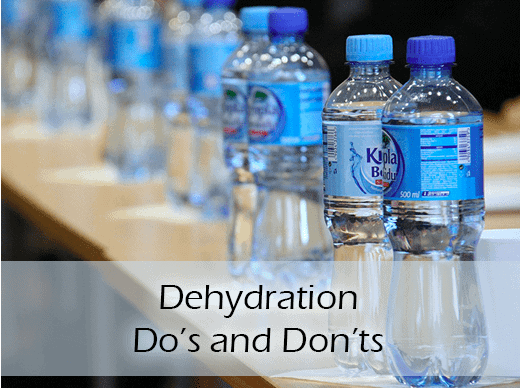 Fox Rehabilitation is proud to present this Wellness Topic of Dehydration.
Did you know that one study found that over 50% of older adults who go to the Emergency Room are found to be dehydrated?  Also, did you know that water makes up around 60% of the human body's weight?  Water is the essence of life, and affects many functions.  Some of the bodily functions that rely on hydration are digestion, breathing, as well as kidney functions.
Common Symptoms
There are many potential causes to dehydration, including medication side effects, vomiting, diarrhea, and many others.  Some common signs and symptoms of dehydration are:
Dry skin

Cracked/dry lips

Poor skin turgor

Dizziness

Confusion

Increased heart rate

Decreased blood pressure

Dark urine

Increased thirst

Mild headache

"sore" muscles
It is important to monitor yourself or your loved one for these signs and symptoms.  Though we do keep an eye out for these warning signs, if you notice yourself feeling like this, or see your loved one experiencing these, notify someone in the building so it can be addressed immediately.
Consequences of Dehydration
Some consequences of becoming dehydrated are medicine toxicity, urinary tract infections, falls due to dizziness, as well as many others.  Some things that you can do to assist in staying properly hydrated is drink plenty of clear fluids (unless you are on a restricted fluid level), suck on ice chips regularly, avoid beverages that have caffeine in them, and eat a healthy diet of foods that have a high water content.  Examples of foods that have a high water content are mostly fruits and vegetables, including (but not limited to) cucumbers, iceberg lettuce, zucchini, radishes, celery, cauliflower, watermelon, cantaloupe, oranges, and pineapples.
If you have any questions on this, please ask Mike Hess, Regional Director of Clinical Operations, with Fox Rehabilitation.