High School student with ties Newhaven Court at Lindwood senior community helped organize charity event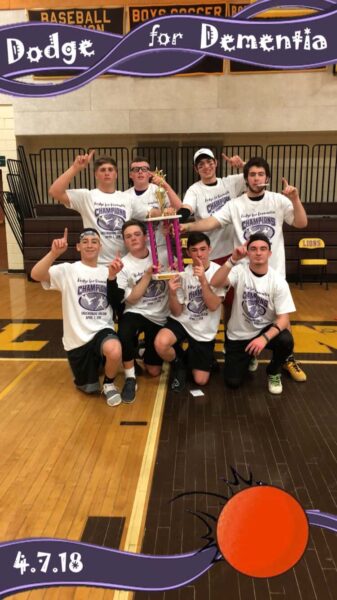 GREENSBURG – Newhaven Court at Lindwood Executive Director Lori Grant was among seven employees of the senior living community who spent a Saturday playing dodgeball.
"It was just so fun. It brought back a lot of high school and elementary memories," said Grant of the "Dodge for Dementia" event held on April 7 at Greensburg Salem High School. "We just had a blast. We were there mostly to have fun and we did. It was a really nice mix of people from different departments working for one common cause."
Thirty-two, eight-member teams played seven-minute dodgeball games throughout the event. Students from 12 area school districts participated alongside a strong showing of college students and people representing area businesses.
More than $2,500 has been raised to benefit the Alzheimer's Association, Grant said. Estimates had more than 400 people attending the event, which also included 256 dodgeball-playing participants.
Troy Oblack is a National Honor Society student at Greensburg Salem High School. He joined fellow NHS student Melissa Paravate as a co-organizer of the event. Oblack also has worked in the food services department at Newhaven Court at Lindwood for approximately a year.
Oblack wanted to raise awareness of dementia as a tribute to the residents at Newhaven Court at Lindwood, where he has grown close to many people.
"You don't hear a lot in schools about Alzheimer's," Oblack said.
That's why the co-organizers reached out to high schools and students from Westmoreland, Fayette and Allegheny counties. They hoped to spread the word.
"We didn't want to get just soccer players. We didn't just want volleyball players. We wanted everybody," Oblack said.
Oblack's determination and commitment to the event impressed Grant.
"Troy is very involved in different community projects at his school. He's in the National Honor Society and super smart," Grant said. "He is the epitome of someone who is going to go places in the world."
Grant said Oblack's interaction with the residents and staff at Newhaven Court at Lindwood made an impression on the young student.
"When he came to Lindwood he got to know the residents and they became like family to him," Grant said. "Troy discovered he has a passion to help residents who have dementia and Alzheimer's. He incorporated this passion into something that his school was doing."
A lesson learned in the classroom, or in this case a training conference, eventually became  reality.
Oblack and Paravate attended a training conference in Pittsburgh. Their assignment was to plan a hypothetical event as part of a leadership exercise. The students decided the hypothetical plan actually could work in the real world.
Greensburg Salem administrators approved the idea and weeks of planning and organization followed.
"It was so neat to see high schools from different counties come together and businesses come together for a common cause," Grant said. "To see Troy in action during the event was just amazing. He worked incredibly hard on this. There was a lot of communication to organize this. To see him working so hard and owning this, we are so proud of him."
 For more information, contact Lori Grant, Executive Director, Newhaven Court at Lindwood, at lgrant@integracare.com or 724.853.2505.