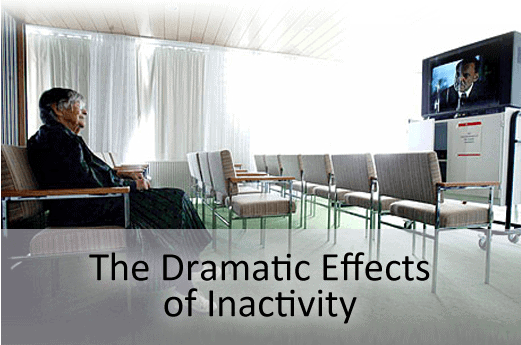 Most individuals generally know that inactivity is not a healthy way of living but many might be surprised what really happens to the human body over time. Along with the obvious decreased strength and endurance there are other factors affected that predispose a person to life threatening illnesses.
What Watching TV All Day Will Do to You
To put things into perspective, 3-5 weeks of immobility leads to 50% reduction in overall strength according to studies. So to reiterate, sitting in a chair watching television for as little less 3 weeks can cause a person to lose half of their strength.
Drop in Movement Means Drop in Blood Pressure
Lack of activity can also cause a condition called orthostatic hypotension, or low blood pressure with changes in body position. If you've ever had a feeling of getting up quickly from the couch and somebody knocks at the door and you get a quick sense of light-headedness, you may have experienced something similar to what occurs with orthostatic hypotension. This is caused by the body's impaired vascular system, or blood vessels, that become engorged with fluid and causes lack of circulation to the brain. Muscles also play a part in pumping blood back from the extremities when they contract and relax, so with decreased activity this does not occur.
Decreased activity also eliminates adequate chest expansion used in breathing heavily during increased activity. With chest expansion comes better cleaning of the lungs and better gas exchange. Without this process, a person will be more susceptible to lung infections. So many times we hear of someone contracting pneumonia during hospital stay. This is in large part to lying for days in a hospital bed where bacteria and viruses are present.
Lack of Movement & Depression
It is a fact that those who are not active may suffer from depression and other related disorders. This can become deadly if not addressed quickly. Medications can have many side effects and may not be suitable for everyone. Exercise is an excellent alternative or supplement to medication as it has been found to produce endorphins, or the body's natural antidepressant/painkiller. This is the chemical in a person's body that produces what is known as the "runners high".
Lastly, exercise has been shown to increased bone density in all age populations. Conversely, inactivity has been shown to decrease overall bone calcium. A fracture in the elderly population can be life threatening and debilitating for several months. Proper prevention with a simple daily regimen of exercise as little as 15 minutes per day can reduce the likelihood of a bone fracture.
In conclusion stay active as much as possible. This will help keep you healthy and deter any of the situations stated above.
This Blog Post was graciously written by Dr. Mike Gentry of Mile-Level Physical Therapy.  Dr. Mike works with our residents at Colonial Courtyard at Bedford to aid their recovery from surgery and falls, or to just help them maintain their abilities in their golden years.  For more information, call us at (814) 624-0100