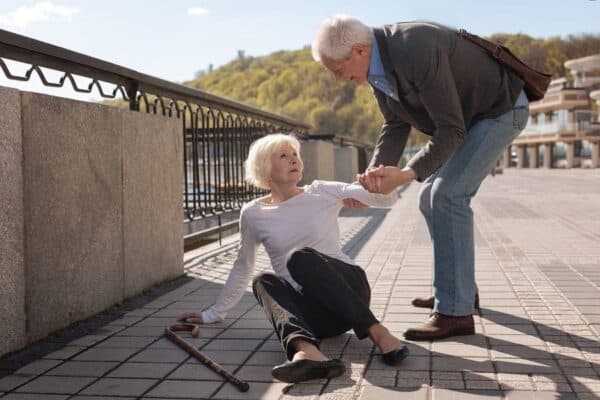 Stumbling into your senior years is anything but good for your health.  In fact, falls for those over 65 can be one of the most significant events affecting how they successfully navigate quality of life in their senior years.  There are many ways to mitigate the risk of falls including exercise to maintain strength and balance, redesigning living spaces and controlling other environmental factors, and regular visits with a physician.  Unfortunately, these interventions cannot always be achieved when living at home alone.   Senior Living communities offer a dynamic alternative.  Through programming, services, and regular interventions, these communities can reduce a senior's risk for falls; improving not only their physical health but their mental and emotional wellbeing too.
Falls: Staggering Statistics
A recent study published in The Journal of the American Medical Association (JAMA) reported that "falls are the leading cause of injury-related morbidity and mortality among older adults in the United States." The reference goes on to say that in 2014, 28.7% of seniors over the age of 65 reported falling.  This meant that 29 million falls occurred, 37.5% of which needed medical treatment or restricted activity for a day or longer.  That's nearly 40% of seniors experiencing a temporary or permanent reduction in activity and subsequent reduction in quality of life.  An even more sobering fact is that and an estimated 33,000 deaths related to falls occurred in 2015. 1,15
While the number of fall-related deaths is staggering, the study also revealed that 2.8 million older adults sought treatment in emergency departments for falls; approximately 800,000 older adults experiencing a fall were hospitalized. 1,15
Hip fractures are caused by falls more than 90% of the time and 25% of older adults who sustain a hip fracture died within 6 months.16,17   These premature deaths could very likely have been prevented.
Risk Factors for Falls
It seems logical that the risk for falls increases with age, and evidence identified in the same study concludes this.  According to their data, in 2014 :
27% of adults aged 65 to 74 years reported a fall.1
 37% of adults 85 years or older reported a fall.1
Beyond an elevated risk occurring as you age, there are other factors that individually, or when combined can increase a senior's risk for falls.  The top risk factors identified in the study included a senior's ability to maintain balance, maintaining a steady and controlled gait, their quality of vision, their blood pressure, what medications they take, the physical environment they live in, and their cognitive and psychological health. 16,17  While it may sound obvious that someone who can't balance and doesn't take even strides will fall, these changes can occur as you age, and things like medication and the development of cognitive challenges like dementia can affect these.  Any senior should be actively engaging with their physician to monitor these factors and take action to mitigate the risk.
Prevention Extends, Improves Quality of Life for Seniors
The data points to necessary interventions to prevent falls or reduce the injury resulting from a fall.  The research results from Interventions to Prevent Falls in Community-Dwelling Older Adults, led by the US Preventive Services Task Force and published in JAMA, April of 2018, found "adequate evidence that exercise interventions have a moderate benefit in preventing falls in older adults at increased risk for falls and those multifactorial interventions have a small benefit" as well. 1
To age strong and reduce seniors' risks for falls, it is important for older adults to engage in activities and preventative measures.  The USPSTF recommends exercise and related activities are the most prominent factors to reduce fall risks. The most common specific exercise that demonstrated reduced fall risk included16:
Gait, Balance, and Functional training
Resistance training
Flexibility exercise
Endurance training
Tai Chi
The most common frequency for exercise studied in the aggregated data was 3 sessions per week for 12 months.8   The most effective exercise interventions include supervised individual and group classes and physical therapy, and most studies reviewed included group exercise.
Senior Living Communities: Mitigating Risk Through Programming & Access to Therapies
Falls are a burden on seniors and the health care system regarding cost, quality of life, and longevity.   Senior Living communities offer all the recommended interventions to reduce fall risks and have a team of healthcare professionals available to intervene quickly if needed.
Movement Mediates
The study recommended many methods to reduce fall risk, and most immediate was exercise.  While it may be an obvious step to improve overall health, there are many barriers to regular exercise that Senior Living settings help overcome.  Group exercise, which also improves socialization, is a regular part of programming.  These group setting exercises range from strength and weight training, tai chi, chair aerobics, and some even offer aquatic exercises too.  These can help improve strength and balance alone, but can also be combined with available Physical and Occupational therapies to help create a well-balanced plan for improvement.  Often, therapy occurs after a fall but many communities, on the leading edge of health care, offer regular Fall Risk Assessments at least every 90 days to identify those residents at risk and begin immediate preventative interventions.
Designed with Mobility in Mind
Senior Living communities are literally designed for seniors, which goes beyond convenience planning.  A well-designed community works to diminish many of the environmental risks found at home by including fall reducing features such as low pile carpeting, adequate and timely lighting, wider doors to accommodate assistive devices, built-in grab bars for related bathroom activities, elevators, and walk-in showers.  At IntegraCare communities, our Champion By Design program includes a review of residents' apartments and consultation about common tripping hazards, and we can help families arrange residents' belongings to reduce their risk.  We also offer emergency call systems and assistance available 24 hours a day 7 days a week should an incident occur.
Monitoring & Maintenance
The multifactorial interventions are perhaps the most challenging to monitor for physicians, seniors, and their family members when a senior is living at home alone.  Senior Living has all of the necessary systems, tools and processes in place to keep a close eye on these interventions including; medication management, diet monitoring and meal preparation, regular medical care from nurses and physicians to monitor and intervene with long term health challenges, and interventions to optimize hearing and vision.
Seniors and their families need to make challenging and important decisions as they age.  Falls impact finances, family time, and the senior's overall health, especially as risk factors remain unchecked and repeated falls happen.  This results in a reduction in a senior's quality of life and longevity.  When choosing the safest living arrangements for a senior, one cannot ignore these risk factors, and having a plan to address them is key.  When the frequency of falls is increasing, and the risks of their environment, lack of exercise, and other factors increase, living at home alone may not be the best option.  Senior Living offers a well-designed and supportive system to reduce many of the risks, often making Senior Living safer than living at home alone.
Learn more about the ways IntegraCare communities are working to keep our residents safe here.