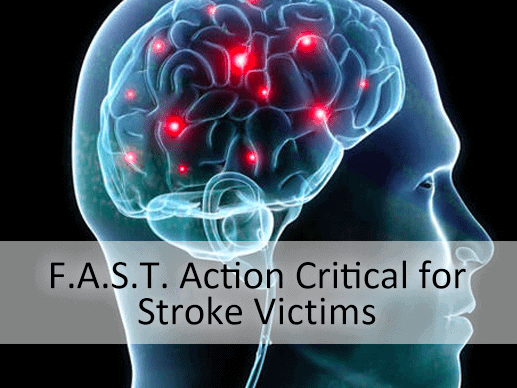 Cerebrovascular Accidents, or strokes, can be very serious life threatening and life changing medical emergencies. Strokes are simply interruptions in blood flow to a part of the brain, either from a bleed in the brain causing pressure and damage to brain tissue or from loss of blood flow to the tissue. Think of it as a heart attack to the brain.
Depending on the area of the brain affected, different symptoms can occur causing loss of strength, speech, coordination, and more. New medical breakthroughs are decreasing the severity of these symptoms and can lead to better outcomes.
Take Action FAST
The first line of defense against a stroke is fast and immediate medical attention. The National Stroke Foundation offers a simple acronym to help you identify an active stroke: F.A.S.T.
Face – Check their face. Has their mouth drooped?
Arms – Can they lift both arms?
Speech – Is their speech slurred? Do they understand you?
Time – Is critical. If you see any of these signs call 911.
If you see any of these signs in a friend or family member, seek immediate medical attention to give the person the best chance at minimizing the effects of stroke.
Dr. Mike Gentry of Mile-Level Physical Therapy serves the residents of Colonial Courtyard at Bedford in a variety of ways, including therapy designed to regain strenght after a Stroke.  For more information on the services he provides, or about the care and lifestyle available at Colonial Courtyard at Bedford, contact Bobbi Howsare at 814-624-0100