7-year-old inspires residents & team at Newhaven Court at Clearview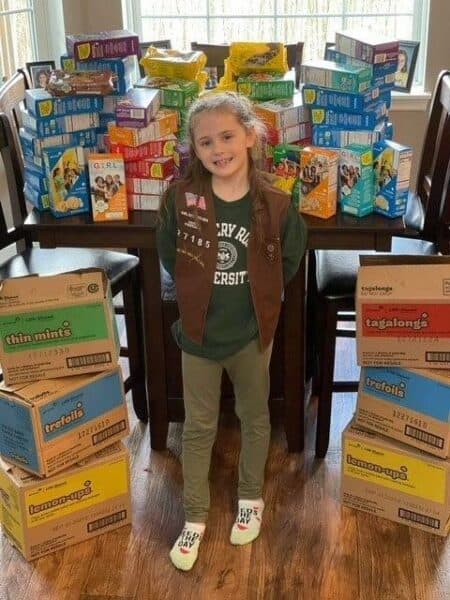 BUTLER, Pa. – Ally Dumbaugh set a goal for this year's Girl Scout Cookie season – and surpassed the mark while distributing kindness as well as cookies.
The 7-year-old elementary school student intended to sell enough of the famously tasty treats to present each resident at Newhaven Court at Clearview with one box of cookies.
Ally exceeded her goal and made both residents and team members at the senior living community in Butler very happy.
"Ally Dumbaugh is truly an inspiration," said Gary Renwick, Executive Operations Officer at Newhaven Court at Clearview. "She set out to not only raise money for her Girl Scout Troop but also to help brighten the day of our residents and our team. She delivered the cookies to us and we distributed them to all the residents."
Ally, who will turn 8 on March 15, is a member of Girl Scout Troop 27185. She sold 82 boxes of cookies, which in turn were donated to the residents at Newhaven Court at Clearview, where her late great-grandmother Mary Dumbaugh briefly resided several years ago.
She attends Center Township Elementary School. Her mother, Jamie Dumbaugh, is a teacher at Emily Brittain Elementary School in Butler. Ally also delivered to Newhaven Court at Clearview a flower craft made by students at Emily Brittain for the senior residents.
"Such thoughtful acts by Ally certainly are appreciated," Renwick said. "It was such a special experience to see multiple generations appreciating such an act of kindness."
For more information, contact Gary Renwick, Executive Operations Officer, at grenwick@integracare.com or (724) 477-8701