Covid Status
We are thrilled to share we are currently covid-clear in all communities!
We continue working vigorously toward the engagement our families seek.  The incidence rates surrounding our communities continue to decline, which supports our goal of connection and visitation.
As of 12:00 pm on 3/5/21
Vaccine Update
We are fully focused on the vaccination of our residents and our team members.  Success here equates to a safer place for all, and the ability to reestablish connections.  Nothing is more impactful than vaccination to our collective futures.  We are pleased to share that vaccination clinics continue to occur and more are being vaccinated each week.  Based on the current vaccines administered and those coming in the next few weeks, here is where we stand:
Community
% of Residents
Vaccinated
% of
Team
Vaccinated
Colonial Courtyard at Clearfield
100%
100%
Colonial Courtyard at Bedford
94%
88%
Colonial Courtyard at Tyrone
97%
99%
Candle Light Cove
100%
76%
Newhaven Court at Clearview
100%
83%
Newhaven Court at Lindwood
99%
96%
Magnolias of Chambersburg
90%
89%
Magnolias of Lancaster*
90%
72%
The Pines of Mount Lebanon
92%
100%
Hunters Woods at Trails Edge
100%
97%
Bay Village
100%**
100%
Queenstown Landing
N/A***
95%
* Magnolias of Lancaster had active cases of Covid at the time vaccination clinics began, so they're delayed in receiving their doses resulting in lower adoption at this time.
** Bay Village just opened their doors this month, and have secured 100% commitment from their residents in advance of their move-in dates to receive the vaccine.
*** Queenstown Landing is awaiting their MD survey and we anticipate them opening before the end of March. 
We are proud of these results and grateful to share this news.  Please know that our efforts are intentional and we are 100% dedicated to creating a safer place for all and a place where visitation will take place.  We are eager to share news on opening plans, and you will learn more about those steps in the coming weeks.
What's New With our Team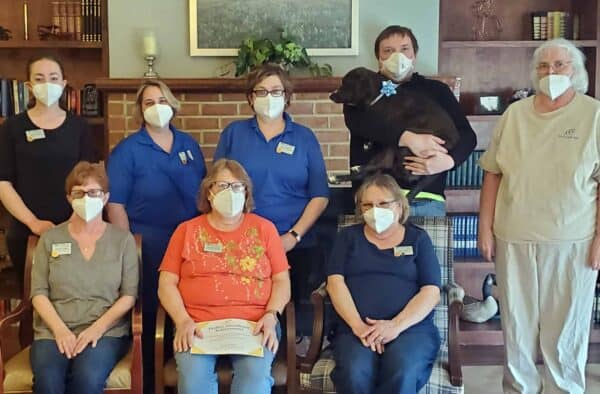 Last Friday, IntegraCare hosted an organization-wide perfect attendance ceremony on Microsoft Teams.  A total of 35 team members were honored for achieving perfect attendance during one of the most intense pandemics in our history.  Please take a moment to think about how difficult that must have been for each of them.  Consider the sacrifices they made, their commitment to our residents, your loved ones!  They were honored publicly at each community and IntegraCare by our CEO, Larry Rouvelas.  Each recipient also received a $1.00/hr pay increase to honor their great work.  Please join us in congratulating them all!
Magnolias of Chambersburg

Pauline Delgado, Linda Geer, Chris Herren, Phillis Jones, Lavonda Patterson (A Previous year's Car Winner!) & Carol Woodring — includes their entire Dining Experience team!

Newhaven Court at Clearview

Sam Bartley, Anna Bodamer, Sandy Christy, Maricris Cooper, Dira Hasenflu, Jeff Lucco, Lisa Schaeffer, Alisha Wetzel, Olivia Wetzel, Colleen Cooper, Faith Kaltenbach

The Woods at Cedar Run

Maha Ayad, Emma Richey, Guilmary Rivera Rosario, Amy Simpson, Evalyne Simpson, Andrea Stiles, Mary Rodgers

Candle Light Cove
Colonial Courtyard at Bedford

Grace Amato, Sharon Cogan, Karen Martin, Georgina Messinger, Kathleen Mills, Kelly Mills, Pamela Rhodes, & Sherry Pittman – who has also served 18 years!!

Colonial Courtyard at Tyrone

Cheryl Benson & Cynthia Wood
The return to normal is a game of inches and great team members are placing the remaining distance within reach!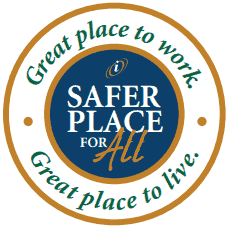 For more information, please contact your Executive Operations Officer at your community.  Stay Healthy!