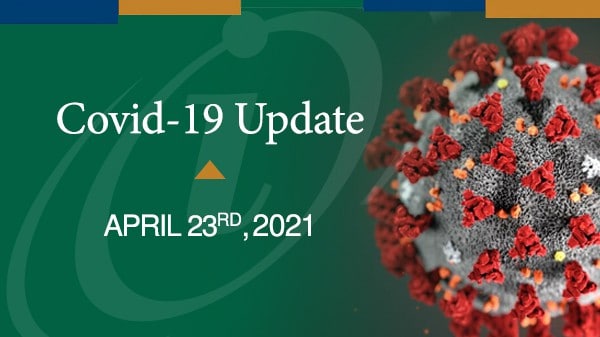 As a reminder, our video updates have moved to a monthly schedule.  We will continue to post updates on our Covid page weekly, and if there are changes in your community you can also expect a "one call" voice message to be sent should an update be needed.
Vaccination Imperative
As of this week, all Americans aged 16 or older are now able to get vaccinated.  We URGE everyone to be vaccinated as soon as possible.  This is not the time to let our guard down, as cases have begun to rise again.  Achieving herd immunity will help ensure our team and our residents remain safe.
Johnson & Johnson Vaccine Anticipated to Resume
We are closely monitoring the status of all vaccination options and in accordance with state guidelines, have put our use of the Johnson and Johnson vaccination on hold.  We anticipate the hold to be lifted later today or over the weekend and will follow the new guidance when it is announced.
The abundance of caution the FDA and CDC are taking here should be reassuring to the public that our safety and wellbeing is of the utmost importance and we can be confident that after the pause, the vaccine can safely be used.  We will communicate when that process will begin again, as it's extremely important that our newest residents and team members secure the protection of a vaccination as soon as possible.
Covid Status
The following data is current as of 12:00 PM on 4/23/21 unless otherwise noted.
At this time, all IntegraCare communities remain covid-free.
Visitation is currently open at all communities as a result, but we urge you to call ahead to schedule your visit.
Incidence Rates
Positivity Rates By County
Below are the current Positivity/Incidence rates in the regions where our communities exist.  As a reminder, the Positivity Rate is the percentage of all coronavirus tests performed that are actually positive, or: (positive tests)/(total tests) x 100%.
The threshold for concern in incidence rates is at or above 5%.  Testing rates may increase, and changes in visitation may result as positivity rates rise.
| | | | |
| --- | --- | --- | --- |
| State | County | Town of ICC Community | Positivity Rate |
| PA | Allegheny | Pittsburgh | 8.5% |
| PA | Bedford | Bedford | 9.7%* |
| PA | Blair | Tyrone | 8.2% |
| PA | Butler | Butler | 7.7% |
| PA | Clearfield | Clearfield | 11.6%* |
| PA | Cumberland | Camp Hill |  4.6% |
| PA | Franklin | Chambersburg | 8.6% |
| PA | Lancaster | Lancaster | 9.0% |
| PA | Westmoreland | Greensburg | 9.8% |
| MD | Talbot | Easton | 3.9% |
| MD | Queen Anne's | Queenstown | 7.7% |
| MD | Anne Arundel | Annapolis | 7.3% |
| VA | Fairfax | Reston | 6.3% |
*The positivity rate in Clearfield County remains high, and Bedford County is approaching similarly high rates of infection.  It is very possible that the state will mandate visitation ceases in all senior care settings within these counties.  We will advise families should that occur.  We urge families to wear a mask, maintain their distance, get vaccinated as soon as possible and remain vigilant.  To reach the other side of this struggle will require everyone's efforts.
Family Visit Basics
It's important to be aware that as positivity rates increase again in the local areas, the state may change its policies on visitation and return to a more restricted protocol.  We urge all to continue to wear your mask, maintain social distancing, and get vaccinated as soon as you are able to help keep positivity rates down and reduce community spread.  We remain vigilant about the number of visitors in each community at the same time and ensuring that our safety protocols remain front & center.  Please remember:
All visitors are screened
Hand hygiene remains important
Masks are required and they must cover your mouth, nose, and be secured to your entire face.
Social distancing remains critical
Eating during visitation is not permitted as it increases the risk of transmission
Vaccination is paramount to our success and we encourage you to consider if you haven't done so
Visitation May Be Suspended If…
Indoor visitation is subject to cancellation at a moment's notice in the interest of health and safety.  Suspensions are almost always the result of a covid-positive test result.  Visitation will be suspended until they have met the criteria to discontinue transmission-based precautions.  This is usually the completion of a 14-day quarantine.
A positive covid result may require a temporary suspension of visitation for testing to determine the level of spread within a community.  If the case is isolated, visitation will be permitted in areas that are unaffected by the positive case.  We urge patience with these rapid changes and with communication that must occur.  The safety and well-being of our Residents and Team are the priority during an outbreak.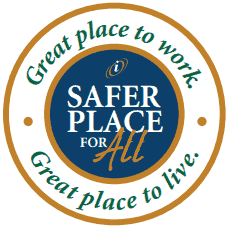 For more information, please contact your Executive Operations Officer at your community