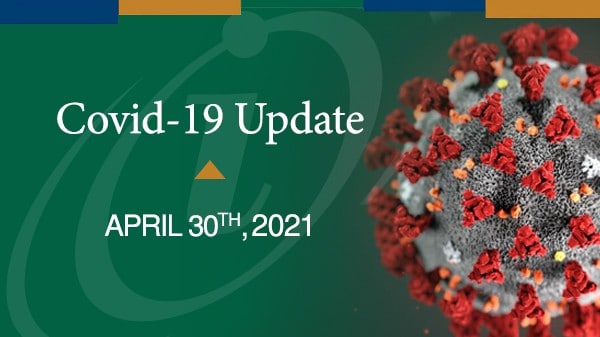 As a reminder, our video updates have moved to the first Friday of every month.  Our next video address will be next Friday, May 7th. 
Updated Guidance from CDC & CMS
The Centers for Medicare and Medicaid (CMS) and the Centers for Disease Control and Prevention (CDC) updated guidance for long-term facilities this week in response to the growing population of people who have been fully COVID-19 vaccinated. These are currently their recommendations and are NOT yet in place in our communities.  The following key changes have now been recommended:
Unvaccinated visitors must continue to wear a mask at all times.
If a visitor is not vaccinated but the resident is, they can visit with a fully vaccinated resident alone in the resident's apartment without distancing.  Masks must still be worn by both residents and visitors in this context.
If both the resident and the visitors are fully vaccinated, they may visit without distancing and without masks if alone in the resident's apartment.
Communal dining and activities may occur without physical distancing if all residents are vaccinated.  This may mean dining may be changed for those residents who are not vaccinated for their protection.
Vaccinated team members will no longer need to undergo routine testing, but should continue to be tested after exposure, during an outbreak, or if experiencing symptoms.
We are hopeful and pleased with the new guidance and look forward to implementing these changes when our states provide direction.  The guidance here is clear – with vaccination we get closer to returning to normalcy.  Please get vaccinated as soon as you can!
Covid Status
The following data is current as of 12:00 PM on 4/30/21 unless otherwise noted.
At this time, all IntegraCare communities remain covid-free.
Visitation is currently open at all communities as a result, but we urge you to call ahead to schedule your visit.
Incidence Rates
Positivity Rates By County
Below are the Positivity/Incidence rates provided as of 4/23/21 in the regions where our communities exist.  As a reminder, the Positivity Rate is the percentage of all coronavirus tests performed that are actually positive, or: (positive tests)/(total tests) x 100%.
The threshold for concern in incidence rates is at or above 5%.  Testing rates may increase, and changes in visitation may result as positivity rates rise.
| | | | |
| --- | --- | --- | --- |
| State | County | Town of ICC Community | Positivity Rate |
| PA | Allegheny | Pittsburgh | 8.5% |
| PA | Bedford | Bedford | 9.7%* |
| PA | Blair | Tyrone | 8.2% |
| PA | Butler | Butler | 7.7% |
| PA | Clearfield | Clearfield | 11.6%* |
| PA | Cumberland | Camp Hill |  4.6% |
| PA | Franklin | Chambersburg | 8.6% |
| PA | Lancaster | Lancaster | 9.0% |
| PA | Westmoreland | Greensburg | 9.8% |
| MD | Talbot | Easton | 3.9% |
| MD | Queen Anne's | Queenstown | 7.7% |
| MD | Anne Arundel | Annapolis | 7.3% |
| VA | Fairfax | Reston | 6.3% |
*The positivity rate in Clearfield County remains high, and Bedford County is approaching similarly high rates of infection.  It is very possible that the state will mandate visitation ceases in all senior care settings within these counties.  We will advise families should that occur.  We urge families to wear a mask, maintain their distance, get vaccinated as soon as possible, and remain vigilant.  To reach the other side of this struggle will require everyone's efforts.
Family Visit Basics
It's important to be aware that as positivity rates increase again in the local areas, the state may change its policies on visitation and return to a more restricted protocol.  We urge all to continue to wear your mask, maintain social distancing, and get vaccinated as soon as you are able to help keep positivity rates down and reduce community spread.  We remain vigilant about the number of visitors in each community at the same time and ensuring that our safety protocols remain front & center.  Please remember:
All visitors are screened
Hand hygiene remains important
Masks are required and they must cover your mouth, nose, and be secured to your entire face.
Social distancing remains critical
Eating during visitation is not permitted as it increases the risk of transmission
Vaccination remains paramount to our success and we urge you to get vaccinated if you haven't done so
Visitation May Be Suspended If…
Indoor visitation is subject to cancellation at a moment's notice in the interest of health and safety.  Suspensions are almost always the result of a covid-positive test result.  Visitation will be suspended until they have met the criteria to discontinue transmission-based precautions.  This is usually the completion of a 14-day quarantine.
A positive covid result may require a temporary suspension of visitation for testing to determine the level of spread within a community.  If the case is isolated, visitation will be permitted in areas that are unaffected by the positive case.  We urge patience with these rapid changes and with communication that must occur.  The safety and well-being of our Residents and Team are the priority during an outbreak.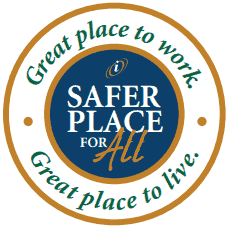 For more information, please contact your Executive Operations Officer at your community