Covid Status
The following data is current as of 12:00 PM on 4/30/21 unless otherwise noted.
At this time, all IntegraCare communities remain covid-free.
We thank all our team members, residents, families, and friends for your continued cooperation.  As mask mandates are reduced and the world continues to open up further, your adherence to infection control protocols has helped us weather this storm.
Dedicated Team Honored with Annual Continued Attendance Rewards (CAR) Celebration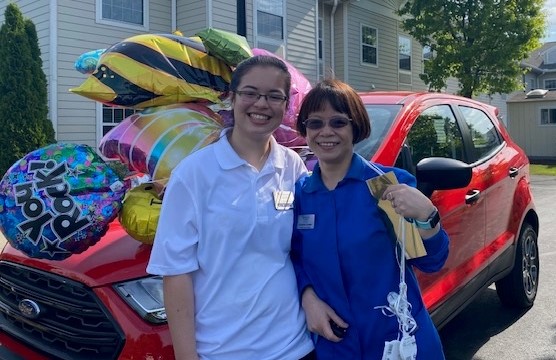 IntegraCare celebrates the dedication of our team with our Continued Attendance Rewards Program where team members who achieve perfect attendance earn chances to win big prizes.  The grand prize each year is a brand new car, and normally that car cruises to the winner in late January.  Due to covid, gathering our teams together at that time was not safe, so we delayed that celebration to this week.  Teams across the IntegraCare family of communities gathered to play games, bond, and win big prizes like big-screen TVs, Netflix, Roomba robot vacs, Apple Airpods and more.  All before the grand prize was revealed live on Facebook.  The 2021 Ford EcoSport cruised to the front of Newhaven Court at Clearview where Maricris Cooper was able to drive away with the grand prize.  It was a joyful day and we're so glad to celebrate the tremendous efforts of our team.
As we shared in a covid update in February, we didn't wait to honor those team members who earned perfect attendance during a global pandemic.  Despite all the challenges that Covid brought, we still had 33 team members earn perfect attendance.  That is a tremendous feat and each of them deserves to be lauded again.
Magnolias of Chambersburg

Pauline Delgado, Linda Geer, Chris Herren, Phillis Jones, Lavonda Patterson (A Previous year's Car Winner!) & Carol Woodring — includes their entire Dining Experience team!

Newhaven Court at Clearview

Sam Bartley, Anna Bodamer, Sandy Christy, Maricris Cooper, Dira Hasenflu, Jeff Lucco, Lisa Schaeffer, Alisha Wetzel, Olivia Wetzel, Colleen Cooper, Faith Kaltenbach

The Woods at Cedar Run

Maha Ayad, Emma Richey, Guilmary Rivera Rosario, Amy Simpson, Evalyne Simpson & Andrea Stiles, Mary Rodgers

Candle Light Cove
Colonial Courtyard at Bedford

Grace Amato, Sharon Cogan, Karen Martin, Georgina Messinger, Kathleen Mills, Kelly Mills, Pamela Rhodes, & Sherry Pittman – who has also served 18 years!!

Colonial Courtyard at Tyrone

Cheryl Benson & Cynthia Wood
We continue to be humbled by the consistent dedication and compassion that our team shows to each other and to our residents every day.  We are so grateful for their continued efforts.  If you are fortunate to encounter a team member, please thank them for their service!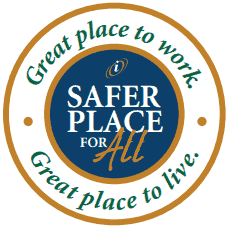 For more information, please contact your Executive Operations Officer at your community