Newhaven Court at Lindwood lost 10 trees, decorations during 2016 flooding
     GREENSBURG, Pa. – The Christmas spirit arrived early at Newhaven Court at Lindwood senior living community thanks to a goodwill effort made by a number of area healthcare facilities and their staffs.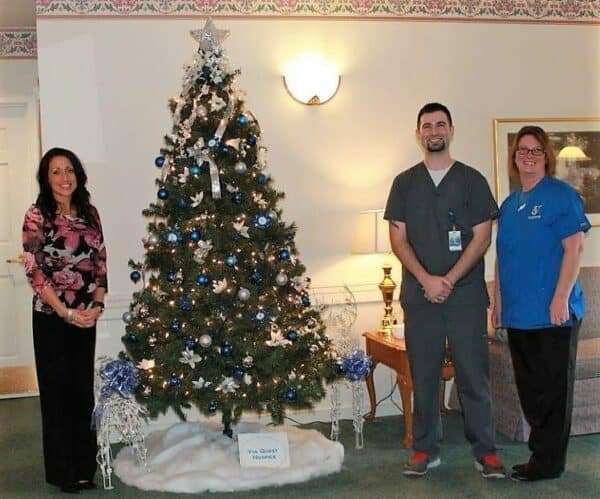 The acts of kindness, which resulted in the replacement of approximately 10 artificial Christmas trees, actually stemmed from a devastating event last year.
On Dec. 17, 2016, a sprinkler pipe burst and flooded much of Newhaven Court at Lindwood. Executive Director Lori Grant and her team spearheaded an efficient evacuation of 57 residents who were temporarily relocated.
Among the items damaged by the water were the Christmas trees and decorations on display throughout the senior living community.
"Throughout the past week skilled nursing facilities and home health, hospice, and therapy providers have brought Christmas trees to help us replace the Christmas trees we lost last year in the flood," said Michael Monsour, Director of Sales and Marketing at Newhaven Court at Lindwood. "It's an amazing act of kindness and consideration, and it's meant so much to our residents and team."
Organizations that donated trees included: ViaQuest Home Health & Hospice; AllStar Therapies, Inc.; Excela Home Health; RNC SNF; Oak Hill Nursing and Rehab Center; Westmoreland Manor; Amedysis Hospice; and Bridges Hospice.
The Christmas trees lifted spirits throughout the community and provided another step toward overcoming the flooding of a year ago.
"When the sprinkler pipe burst, we had three neighborhoods which housed a total of 17 apartments completely damaged and inhabitable," said Grant, whose team worked efficiently to have residents back in their apartments 10 days after the flooding. "The activities room and kitchen were completely damaged as well.  Throughout the community, there were approximately five apartments that had damage."
"We lost the Christmas trees, which were in the public-common areas throughout the community," Grant continued. "We lost approximately 10 Christmas trees.  We also lost a lot of Christmas decorations that were damaged."
The Pennsylvania Health Care Association recognized Grant in September by presenting her a Hero Award for her handling the flooding incident. Grant was named Assisted Living/Personal Care Executive Director of the Year.
For more information, contact Michael Monsour, Director of Sales and Marketing, Newhaven Court at Lindwood, at mmonsour@integracare.com or 724.853.2505.