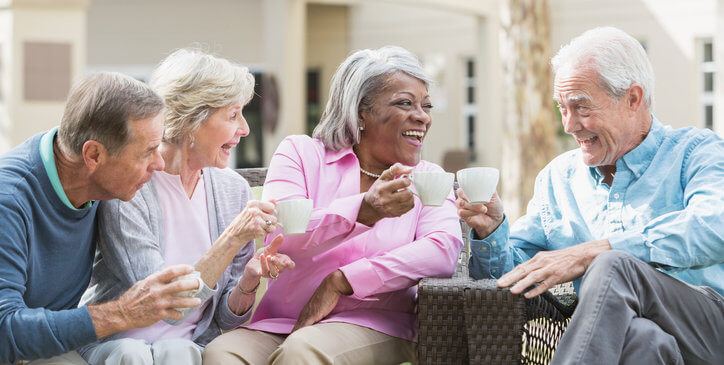 Everyone should have the opportunity to live a long and healthy life.  However, life choices and the environments that surround us as we age can have a significant impact on our quality of life as we age.
The WHO defines Healthy Aging "as the process of developing and maintaining the functional ability that enables wellbeing in older age".
Functional ability is about having the capabilities that enable all people to be and do what they have reason to value. This includes a person's ability to: meet their basic needs; to learn, grow, and make decisions; to be mobile; to build and maintain relationships, and to contribute to society. 1
Age Well Through Relationships and Contribution to Society
The Familiar Story
Martha was living some of the best years of her life after she and her husband, Bill, retired.  As they nudged into their eighties and health issues began to restrict their mobility and confidence, they became more isolated in their home, traveling less, running fewer errands, and even visiting the doctors less.  Where they once had a vibrant social life, visiting and hosting friends frequently, they now seldom even heard from them by phone.  The family grew up and moved away, making even family gatherings short and limited to once or twice a year.  She knew this was not going to last long and after Bill injured himself in his woodshop due to failing eyesight, he despaired at the loss of a hobby that once brought him joy.  Their health issues were worsening quickly and where there was once joy, there was now depression and despair.
Healthy Aging is about creating the environments and opportunities that enable people to be and do what they value throughout their lives. Often, like Martha and Bill's story, the natural challenges that come with growing older shrink those environments impacting the goal of healthy aging.
A recent "Age Well" study published by the Mather Institute found several associations linked to social well being and health.  The Mather Institute is a leading research group that seeks to improve the lives of older adults.  The primary research centered on a five-year study is to assess the impact of living in a Life Plan Community on residents' health and wellness over time.  To determine the importance of community belonging or social wellbeing the study looked at over 5,000 individuals in 122 life plan communities. 2
According to Catherine O'Brien, PHD, MPH, Assistant Vice President and Director of The Mather Institute, " Individuals who have a greater sense of community belonging eat healthier diets, have significantly less stress in their lives and report better overall health".
In addition, Catherine reports the study found that those living in life plan communities had better overall social well-being scores than a demographically similar group of individuals not living in life plan environments.
Difficult Conversations
After one of her semiannual visits, Martha & Bill's daughter, Mary, realized that Mom and Dad had declined significantly.  It was time for her and her brother to do something.  After a long, emotional family meeting they came to several difficult conclusions.  Mom and Dad's failing health meant they were no longer safe in the home they built together 50 years ago.  Their social circle had closed in with their friends either passing away or moving away to be nearer to their kids.  And with no other nearby support system, they decided to explore retirement community options closer to Mary.
In year one of The Age Well Study if was found that residents who live in a life plan community generally have better overall health than those living in the general community.  Life Plan Communities do just that, they plan for the things that support a healthy life.  They typically include a range of senior living assistance commonly divided into 3 categories; Independent Living, Assisted Living, and Nursing Care.
The study also found that residents who form strong bonds within their communities have better overall health.  Making friends as you age is challenging for everyone, but it's especially difficult when you factor in the common isolation that occurs for the elderly.  Community living overcomes that isolation challenge, while vibrant programming commonly found in Senior Living seeks to overcome the rest.  Senior Living Communities offer many formal and informal opportunities for social interaction, exercise, and spiritual wellbeing which all contribute to bonds with community team members, other residents, visitors, and family. 2
The study noted that communities should provide different types of exercise class for the introvert and the extrovert; offer classes or resources to encourage a sense of purpose, resilience, and optimism; use new resident programs or events to foster relationships; create environments or programs to improve mood and energy as well as a few others.  2  A thorough programming plan is imperative in operating a successful Senior Living community, and should be a detail to include when considering a community setting.
The Rest of the Story
Bill and Martha moved into a retirement community just 10 minutes from their daughter's home.  The community had a woodshop and after moving in, Billl was able to make several new friends with likeminded woodworkers, and even took regular classes and shared stories.  Martha took up Canasta with new friends, and learned to paint.  The grandchildren spent more time with Bill and Martha before going off to college.  Bill did pass away in the middle of their second year, and while the family and Martha were devastated, they had the support of their community – friendships with other residents, other family members and the community workers.  Martha says she still has a few more chapters to write before she joins her husband.  And she'd want to do it nowhere else than her new home.
For many seniors, making a change from living at home and moving to a retirement community may seem like climbing a mountain, research shows that after that emotional slope is navigated that older adults have a stronger opportunity to age well.